PhD students take top prize for design of musical robot companion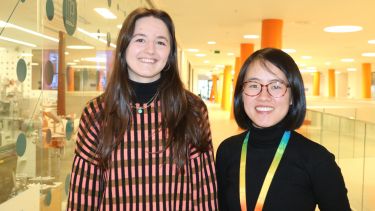 The competition brief was to create a design for a robot that was 'inclusive and affordable', something which influenced every aspect of the team's research and design. Motivated by music's powerful ability to connect and transcend cultural and language barriers, they came up with the design for 'Melodica: An Affordable Music Companion'.
Melodica is envisaged as an affordable companion that users can share their love of music with - and utilise music as a form of self-care. As such, it could be used to help combat loneliness and improve people's mental health, as well as having many other functions.
The team, made up of PhD students Guanyu Huang, Mary Hewitt and Teresa Rodríguez Muñoz from UKRI Centre for Doctoral Training (CDT) in Speech and Language Technologies (SLT) and their Applications, drew upon their research in various areas to take on the project as part of the year two SLT Challenge.
When Melodica was announced as winner of the HRI 2023 Student Design Competition in March, the team were taken aback.
Mary said: "We felt overwhelmingly happy, especially given we were not expecting to win amongst so many interesting and unique robot designs. 
"We had received a lot of interest and positive feedback from academics at the conference, but winning the competition validated to us that Melodica has the potential to provide a unique and fulfilling experience for all."
The team's vision for Melodica is for a robot that users can interact with using spoken commands to perform a variety of music-related functions. Melodica would respond to the commands by, for example, playing an appropriate song, displaying light effects or dancing to a tune. Melodica is also designed to be accessible to those with hearing impairments through a function that would see the robot vibrate in time to a piece of music..
Examples of potential uses for Melodica are detailed in the team's paper and include animal/instrument sound quizzes, learning a foreign language via songs that match learners' cognitive levels, and enjoying a relaxed bedtime as the robot works in conjunction with health-monitoring apps.
The team brought different strengths from their PhD projects to Melodica. Guanyu and Teresa have both looked at human-robot interaction in their research, and part of Mary's research involves the use of low-power and affordable hardware. Combined, this allowed the team to think creatively about designing for robot interaction using affordable components.
"Our knowledge and familiarity with voice user interfaces (VUI) influenced our choice to employ this method as the primary method of interaction with Melodica," said Guanyu.
"The University's iForge training course and hands-on sessions provided a quick learning experience of using laser cutters to build the prototype of Melodica.
"Also, all team members have worked on team projects after they joined the CDT programme. We are familiar with project management, such as planning and team working. 
"This experience, together with the help provided by our senior students, helped us to develop and implement our ideas and complete the project within a relatively short time frame."
Members of the team are now working with the University's Commercialisation Team to explore options for further developing Melodica.
Find a PhD
Search for PhD opportunities at Sheffield and be part of our world-leading research.