The iForge is a student-led makerspace 'run by students for students'. It is an engineering workshop equipped with tools and equipment that allow its users to design, create, innovate and collaborate.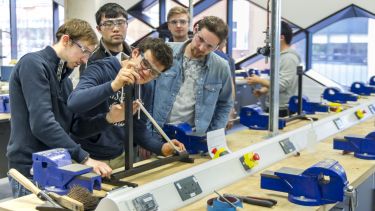 Off
Here are the key principles of the space: 
Available to all University of Sheffield students and staff

The workshop is available to all students and staff across the UoS campus to design, prototype and manufacture. However, priority should be given to undergraduate students.
The intended uses for the space are users designing, prototyping and manufacturing; for personal projects; for university modules or final year projects; or for co-curricular projects.
There is no pre-booking of the space and all equipment works on a first come first served basis. However, users are encouraged to minimise time on the equipment to allow other users the opportunity to use it, i.e. come to a machine with complete files in the correct format.

What can students do in the iForge?

Students can make whatever they like in the iForge, whether it is for a new business idea, a project as part of their course, a component for a co-curricular activity or fixing their bike. 
All projects need to be discussed with the Rep on entering the iForge to ensure work is safe, sensible and makes good use of resources. 
We want to encourage enterprise, but the iForge is not for making products for direct sale (otherwise it could soon become a production line with free material and equipment!).

Minimal barriers to entry and equipment access

The space is free to use by all. However, materials will be charged at cost.
Training and supervision in place to facilitate users of all levels.
Welcoming friendly environment that users feel comfortable accessing and feel supported.

The Ethos

The iForge is run by a team of students without direct supervision from staff. They are responsible for all aspects of the running of the facility with the guidance and support of academic and technical UoS staff.
Developing a community where users feel comfortable sharing skills and asking for support.
Creating an environment that encourages independent thinking and experimentation, and allows users to make mistakes in a safe environment.

Useful Links:

Link to the iForge Website

Link to Link Tree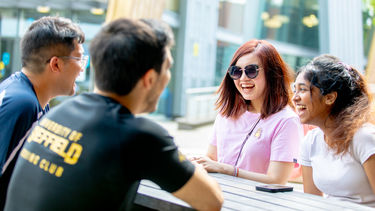 International Merit Scholarships
We offer a generous package of financial support for international students including 75 undergraduate scholarships worth £10,000 towards the annual tuition fee and 125 postgraduate taught scholarships worth £5,000 towards the tuition fee. Applications are now open for existing offer holders.