Be part of our world-class research team.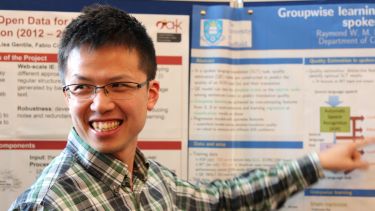 The Department of Computer Science has an international reputation for the quality of our research. In the 2014 Research Excellence Framework (REF), 92% of our research was rated world leading (4*) or internationally excellent (3*) in terms of its originality, significance and rigour. 
There are three ways you can undertake postgraduate/doctoral research in the Department:
Researching your own idea with an academic supervisor
Within our Centre for Doctoral Training (CDT)
As part of an existing research project
Researching your own idea with an academic supervisor
If you are interested in a specific research area and have a project in mind please apply online. You can use the find a supervisor tool to help you discover more about our academic staff. You can also learn more about the research we do on our research group web pages. 
Centre for Doctoral Training (CDT)
The UKRI Centre for Doctoral Training in Speech and Language Technologies and their Applications is a world-leading hub for training scientists and engineers in speech and language technologies (SLT) – two core areas within artificial intelligence (AI) which are experiencing unprecedented growth and will continue to do so over the next decade.
PhD Scholarship in Data Science (located in Singapore)
Further details

A PhD scholarship in Data Science is available at the Agency for Science, Technology and Research in the Republic of Singapore. This scholarship is fully funded and full time in Singapore, including stipend and travel expenses. For more details, go to

https://www.a-star.edu.sg/Scholarships/For-Graduate-Studies/Singapore-International-Graduate-Award-SINGA 

The successful student will be based at the Institute of Bioinformatics http://www.bii.a-star.edu.sg/

In this PhD studentship, different methods of regularising machine learning frameworks for sparse solutions to underdetermined curve and surface problems will be considered. Traditional machine learning methods, Deep Learning and other methods, will be investigated theoretically and computationally. An important part of the research is the development of a solid mathematical basis for these methods, such that the conditions for their correct use, when they yield good results, and their incorrect use, when they yield bad results, are established. The student must have strong interests in computational mathematics, numerical analysis and statistics. Strong programming skills for algorithmic development are essential.

For more information about the SINGA scheme, please email Kok Mei, kohkm@bii.a-star.edu.sg.

Application procedure: Applicants should email a CV, and include a transcript of their marks obtained thus far, to Dr Joab Winkler (j.r.winkler@sheffield.ac.uk). The names of two academic referees must be included. The closing date for applications is Thursday 9 April 2020. The applicants who have been short listed will be interviewed by Dr Hwee Kuan of the Bioinformatics Institute using Skype.
Scroll down to view a further list of available projects, or you can conduct your own new search.
Find a PhD
Search for PhD opportunities at Sheffield and be part of our world-leading research.