The Pervasive Computing research group is focused on co-designing, developing, applying and evaluating pervasive technologies in applications that integrate with people's lives, work, and leisure activities.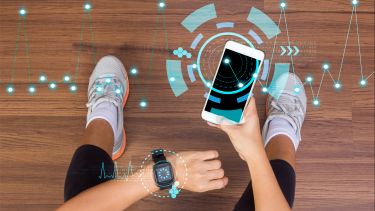 Pervasive computing is a rapidly advancing field in which continuous and embedded data collection, processing, analysis, understanding and communication co-exist. The technologies it produces are deeply integrated into people's lives and have a profound socio-economic impact. The application areas include health and wellbeing, smart cities and transport, environmental monitoring, ambient assisted living, agriculture and many others.
The research of the group focuses on the design, development, deployment and evaluation of pervasive computing methodologies, models, algorithms, tools, and their applications and ethical implications. The group undertakes fundamental research as well as applied/translational research, working closely with stakeholders, such as the National Health Service (NHS).
The group's research covers, but is not limited to, four main themes:
Mobility Analysis

One of our core research areas is understanding active (physical) and non-active (motorised) mobility, with a focus on smart mobility and healthcare. We have several research projects ongoing in this research area, focusing on:

Understanding physical mobility (e.g. walking) as a marker of health, focusing on mobility impairment caused by ageing or health conditions, such as Chronic Obstructive Pulmonary Disease (COPD), Parkinson's Disease (PD), Multiple Sclerosis (MS), etc. 
Understanding driving behaviour as potential digital biomarker for mild cognitive impairments and assessing Fitness to Drive using telematic technologies (Fit2Drive).
Understanding transport patterns and anomalies, to identify criminal and terrorist behaviour.

We have developed in-house methodologies and technologies to track physical mobility using smartphones and smartwatches and extracting contextual factors, and we are very keen to cooperate with new partners for understanding mobility in new case studies. In previous years our technology for activity tracking was used by over 600,000 users in the UK and Europe, including Public Health England in supporting government campaigns for health and well-being (Active 10).

Pervasive Healthcare

Our pervasive healthcare research focuses on the utilisation of mobile or pervasive sensing techniques to support faster and safer preventive care, improved patient-centred practice, and enhanced sustainability. Current work on pervasive healthcare is highly interdisciplinary involving methodologies from computing, engineering, information science, behavioural science, as well as many other areas of medicine and public health. 

Our group is developing sophisticated techniques to:

Integrate different smart wearable devices into a unified system for intelligently sensing daily human health information.
Design and develop applications for efficiently delivering specific health services.
Effectively and efficiently managing, analysing and exploring a sheer volume of long-term health data with latest AI technologies for supporting clinical decision-making.

In collaboration with industrial partners (AntData Ltd etc.), we have developed a pervasive intelligence system that links to smartwatches to help monitor and self-assess motor symptoms experienced by people with Parkinson's.

Digital Agriculture

Contributing to the UK Net Zero goal, we explore applications of advanced mobile sensing technologies and AI models in modern agriculture. We are working with modern farms in many regions to develop sustainable precision farming application systems based on cloud architecture, IoT, big data and AI technologies. Our mobile intelligence application solution integrates various high-efficiency intelligent farming modules such as soil health management, fertiliser decision-making, and integrated pest management (IPM), which will be the core parts of future agriculture.

We have several research projects ongoing in this area, focusing on:

Developing mobile intelligence technologies and applications that integrate contextual and visual information with AI models for pest detection, highlight the current threshold for the identified pest, and provide information on the insecticide resistant status of regional pest populations.
Producing a farmer-centred, interoperable mobile-cloud system "ParallelFarm", that offers access, collection, aggregation, and analysis of farming data using various AI models that improve fertiliser use efficiency and soil health. 
Developing a machine learning based automatic image recognition technique capable of real-time detection of PPNs using digital images/videos. 

Co-Design and Inclusivity

 

We explore and develop co-design research methods that aim to identify users and stakeholders at the beginning of a project and encourage active involvement throughout the various steps, from requirements analysis to design and evaluation. All our methodologies and technologies are grounded in these principles of co-design and inclusivity. We make a conscious effort to increase inclusivity by actively involving under-represented communities in our research projects, with the aim of implementing inclusivity by design.
Core members
Academic staff
Research staff
University Teacher
Research students

Hongrui Shi
Lula H Albar
Lei Niu
Malak Alqulaity
Muhammed Ali Shiwani
Muhammed Senoyodha Brennaf
Yue Peng
Xulong Wang
Xiyang Peng
Flagship institutes
The University's four flagship institutes bring together our key strengths to tackle global issues, turning interdisciplinary and translational research into real-world solutions.