What a difference a (first) year makes!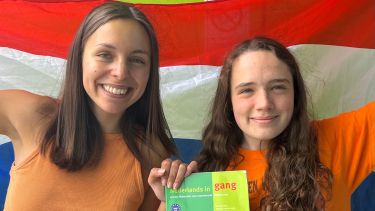 "Less than 10 months ago, we had no clue what amazing things we'd be getting up to here in Sheffield! The university application process appeared incredibly daunting, and now it seems to all make sense. To think that our amazing lecturers, Henriette Louwerse and Filip De Ceuster, viewed our personal statements not knowing how much of an impact they would have on our first year of university."
"We both had the University of Sheffield as our first choice, as a result of the warm and enthusiastic welcome we received from the Dutch section on an Open Day, and the fact that the Dutch at Sheffield is renowned nationwide. Studying Dutch makes us unique, not only for our future careers, but it's always been fun to see the reactions to saying that we take Dutch! We also cherish the tight-knit community we've found within our classes, and the opportunities we've had to interact with staff both inside and outside the classroom. I mean, how many people can say they've chilled in their lecturer's garden?!
Whether you have previously studied a foreign language or not, you will find there is nothing to fear as everyone was welcoming and accommodating. 

Hannah Bilsby and Esther Moffit

BA Modern Languages and Cultures 
Although learning a new language has been really fun and rewarding, it is of course also quite challenging at times. Both of us have previously learned German, which is sometimes an asset, as many of the words, particularly when reading Dutch, look very similar. When doing speaking practice for Dutch, it is annoying how often the only words that come to mind are German, but of course, that comes with learning a language for 7 years versus the mere 9 months we have been learning Dutch for! The pronunciation of Dutch words can be quite tricky, especially when you first come to learning the language, but you quickly pick it up over the year. Whether you have previously studied a foreign language or not, you will find there is nothing to fear as everyone was welcoming and accommodating.
Learning Dutch at Sheffield University, coming from two 'unbiased' Dutch students, has been the best choice, as it has been an overall easy experience, all thanks to the calm and fun environment in the classrooms and the high quality of the teaching. The Dutch-speaking community at the University of Sheffield is full of students and lecturers who are extremely friendly and supportive of each other, which has made our first year here as stress-free as possible, and easy to engage with. Not to mention the wonderful Dutch society, Nederlandse Vereniging, who have put on many fun and inclusive events in collaboration with the Dutch section. Examples include the weekly events like Pub en Praten, and Thee en Taart. Dutch culture was also brought to Sheffield in events, such as the visit from Sinterklaas, for which we learnt traditional Dutch songs, and the eindejaarsborrel, which was kindly held by the Director of Studies in her back garden.
If you are considering taking up Dutch or coming to the University of Sheffield to do languages, we say: go for it. We couldn't have made a better choice!"
Hannah Bilsby and Esther Moffitt
A world-class university – a unique student experience
Sheffield is a research university with a global reputation for excellence. We're a member of the Russell Group: one of the 24 leading UK universities for research and teaching.