At-home maker activities for kids and parents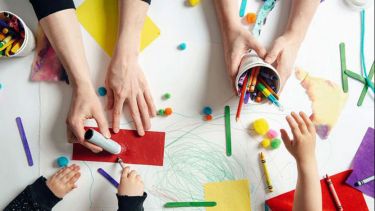 Professor Jackie Marsh's team at MakerFutures have developed a range of resources  to foster creativity and enhance learning in children in the form of fun activities that parents and carers can encourage. 
From making a cardboard guitar to a spaghetti bridge, or even building a bot, there's a vast range of activities to suit every child and encourage play with whatever materials parents and carers have available. 
The activities are available as downloadable pdfs and include easy-to-follow resource lists and instructions. The team will continue to release a few activities per week whilst schools are in lockdown.
Professor Jackie Marsh said: 'Parents and carers who are able to, have been doing a brilliant job in supporting children's learning whilst in lockdown. We hope that these resources will help make it easier by fostering science, technology, engineering and maths (STEM) learning in a fun and engaging way.' 
Dr Alison Buxton, who leads the MakerFutures programme, said: 'Making involves hands-on activities, which are important for learning. Learning-by-doing involves experimentation, risk-taking and problem-solving, all of which are important skills for children to develop.'
Alongside Professor Marsh's work on the MakerFutures project, she also chaired a Department of Education panel to identify good quality educational apps for children. Head to the Department of Education's Hungry Little Minds site to find the apps and for more information. 
Flagship institutes
The University's four flagship institutes bring together our key strengths to tackle global issues, turning interdisciplinary and translational research into real-world solutions.