EPSRC Centre for Doctoral Training in Compound Semiconductor Manufacturing
The EPSRC Centre for Doctoral Training in Compound Semiconductor Manufacturing aims to supply the UK with scientists and engineers with relevant skills and knowledge for the compound semiconductor industry.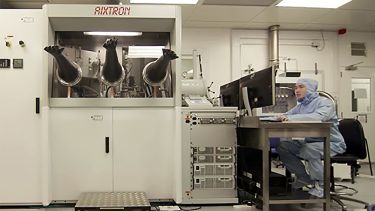 With our innovative 1+3 programme students will spend their first year in Cardiff on a Compound Semiconductor MSc, before taking a 3-year PhD project in one of the partner institutions - Sheffield, UCL, Manchester or Cardiff. You get two degrees from our program - an MSc and a PhD - and both are fully funded and include a stipend.
You will get two degrees from our program, an MSC and a PhD, both are fully funded and include a stipend.
The compound semiconductor cluster, centred in South Wales, with links across the UK, is developing with the expected creation of over 5,000 jobs. With established excellence in compound semiconductors, we will provide PhD training that is industrially relevant and intellectually challenging. We aim to benefit the whole supply chain, from the manufacturing of materials and devices to the systems and applications that use them.
The first year – an MSc in Cardiff...
The goal of the first year is to teach practical, hands-on process development and manufacture. We have a dedicated training cleanroom, and you will choose courses such as "Semiconductor Fabrication" or "Fundamentals of Micro and Nano-technology". You will be taught skills such as Labview.
---
The PhD in any partner institution
During the first year, as part of the MSc, you will develop your PhD project alongside your chosen academic and industrial partners. You will be ready to hit the ground running on your PhD. The PhD project can be with any of our partner institutions - Cardiff, Manchester, Sheffield, or UCL. You will be a registered student in your chosen institution, and your PhD is fully funded.
Industry partners
Most PhD projects will have industry partners, with an industrial supervisor providing guidance. This industry link provides an excellent opportunity to do top-level research that is also industrially relevant, and make contacts in your chosen industry to kick-start your post-doctoral career. The CDT already has links with 27 companies and is always adding more.
Applications now open
For more information contact Professor Tao Wang, and to apply, visit the Cardiff University website.
Top 10 in the UK
We're in the top 10 UK Electronic and Electrical Engineering Departments (QS World University Rankings 2021).
Find a PhD
Search for PhD opportunities at Sheffield and be part of our world-leading research.