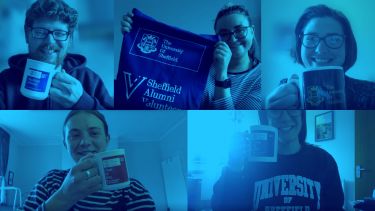 £5 could help stock our research labs with essential supplies.
£15 could pay for one hour of research by our early career scientists.
£25 helps to transform a patient's skin cells into brain cells for non-invasive testing
We're encouraging you to take an hour out of your day to catch-up with each other.
If you're a member of staff, the University has given permission for you to use an hour during the working week for your meet-up.
Plan your virtual meet-up activity. This can be coffee and a catch up, a virtual quiz, online Pictionary, or any other kind of get-together.
If you're a Sheffield graduate, why not get out your Sheffield memorabilia? Whether you'll drink from a Sheffield alumni mug, proudly wear a Sheffield hoodie, or have a Sheffield tote bag hanging in the background, we want to see it!
Remember to encourage people to donate while hosting your meet-up by sharing this link - http://thebigweek.blackbaud-sites.com.
Send us screenshots of your meet-up to communityfundraising@sheffield.ac.uk, and let us know your country or University department. We'd love to see 50 meet-ups across the globe and 50 meet-ups across University departments. If you have any other questions please don't hesitate to get in touch.