Thanks to the incredible support of over 11,000 donors, our Sheffield Scanner appeal raised over £2 million, helping to establish a ground-breaking PET-MRI facility in the city.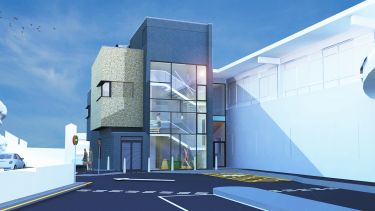 Transforming medical research
The Sheffield Scanner is the world's most advanced medical imaging system, combining PET and MRI in one machine. This new approach will transform understanding of serious conditions like cancer, dementia, heart and lung diseases, MND and Parkinson's disease and the way they are treated in the future.
The scanner was recently installed into the purpose-built facility at the heart of the University's medical campus. Work is expected to be completed by spring 2020 when clinical trials with patients from across the Yorkshire region can begin.
---
Using MRI and PET we are developing techniques that give us more information on hard-to-treat lung cancer tumours more quickly. This will help us treat more patients with radiotherapy as effectively and safely as possible.

Dr Matthew Hatton

Consultant Clinical Oncologist, Weston Park Hospital, and Honorary Professor in Clinical Oncology, University of Sheffield
---
Sheffield Scanner key facts
Accelerates drug discovery.
One of only eight PET-MRI scanners in the UK and the first in Yorkshire.
Fewer hospital visits and reduced travel time for patients.
Faster diagnosis.
Tracks progression of disease more acurately.
Enables real-time treatment monitoring.
---
With PET-MRI, we will have a precise, non-invasive imaging method that could enhance our ability to diagnose and monitor Multiple Sclerosis (MS) – something that is vital for patient-specific precision therapy. This is why the Sheffield Scanner is hugely exciting for advances in MS clinical care and clinical research.

Professor Basil Sharrack

Consultant Neurologist and Honorary Professor of Clinical Neurology, University of Sheffield
---
A community of support
Thousands of people from across the University community, the Sheffield city region and beyond got behind the Sheffield Scanner appeal. Alumni, staff, students and members of the public came together to  help reach the £2 million fundraising target, making a valuable contribution towards the £10 million target.
As well as generous one-off donations and legacy gifts, many undertook fundraising events and challenges – all in recognition of the valuable role the scanner will play in advancing human health, right here in Sheffield.
---
Our ultimate goal is to slow or even halt Alzheimer's disease before it has taken hold. MRI-PET is the best technique there is for detecting the earliest signs of Alzheimer's disease.

Professor Annalena Venneri

Professor of Clinical Neuropsychology, University of Sheffield, and Honorary Consultant, Sheffield Teaching Hospitals NHS Foundation Trust