Student experience appeal
Your support will mean more students have the opportunity to get involved in life-enriching extra-curricular activities.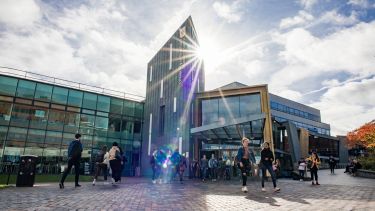 ---
A campus of opportunity
There are so many ways in which participating in extra-curricular activities benefit students.
Friends for life
Starting university can be tough, but clubs and societies are a fantastic way for students to make new connections. University friends are often friends for life. They will be there through the highs and lows of studying, celebrate together at graduation and support each other through their careers and family life.

Try something new
With over 300 clubs and societies on offer at the Students' Union and hundreds of trial 'Give it a go' sessions a year, there are many opportunities for students to try new things and meet like-minded people.

Developing skills
In an increasingly competitive job market, skills and experience gained in extra-curricular roles can set graduates apart and give them the edge when applying for roles. Skills like leadership, teamwork, communication, budget management and event organisation can all be gained by getting involved in clubs and societies.
---
What your gift will support
£10 can buy five tubes of shuttlecocks.
£50 can buy a set of portable gymnastics rings.
£150 can buy a portable camping stove or a national sports competition entry fee.
£250 can buy six cymbals or five wetsuits.
£500 can buy an all-purpose kayak or base camp tent.
£1,000 can help towards a saxophone or the transportation of a rocket to an international competition.
£2,000 can help 120 members of the Theatre Company produce a musical.
---
Sheffield University Rugby League Club - Taster Wheelchair Rugby Session
Grant: £200
Funded: Coaching, equipment and facilities hire
The grant allowed us to run a successful Wheelchair Rugby Taster session for our members, which involved learning about disability sport from inspirational local figure, Andy Atkinson. Members who attended the event really enjoyed it and gained an invaluable insight into the challenges disabled athletes face in sport and life. We were also able to promote our taster session to the wider Sheffield community as part of Disability in Sport Week.

Jack Gordon

Club Captain
---
How donations make a difference
When you make a gift to support the student experience, you support clubs, societies and student groups to provide an inclusive extra-curricular environment in which all students can participate.
Starting from scratch
Your donations help groups buy the equipment they need to get started and promote themselves to new members.

Accessible to all
Thanks to you generous gifts, clubs and societies are able to buy kit and equipment. This is then loaned out to students wanting to try an activity for the first time and to those who can't afford to make the purchase themselves. Not only does this mean more students can try more activities, it means that those from lower-income backgrounds have the same opportunities as everyone else.

Developing skills and giving back
As well as equipment, your donations help fund events or projects that will develop their skills and enable them to give back in the local community.

Once in a lifetime experience
With your help, clubs, societies and student groups represent the University at competitions or events across the UK and internationally, enhancing our reputation and giving students – many of whom would not be able to attend otherwise – with a once in a lifetime experience that they'll remember forever.
---
Railway Challenge team
Grant: £900
Funded: A new motor system for the Sheffield student team for a national live test railway design competition
As a team it was decided that one challenge we wanted to tackle this year was an external axle drive using timing pulleys. In order to achieve this we needed to change our motor system. The £900 we were granted was put towards this issue, by helping us to purchase specific motors for this design.

Rachel Crawford

Team Principal