Alina's Sheffield Half Marathon Story
Meet Alina Moore, Research Communications Coordinator in Corporate Communications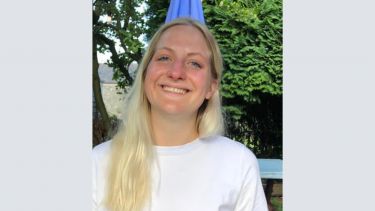 What made you choose to sign up for the University of Sheffield team at the Sheffield Half Marathon and why? 
My mum ran the Great North Run last year and I was incredibly proud of her. I was in constant awe of her dedication to strict training schedules that she fit around her busy working days. When I first heard about the Sheffield Half Marathon through a University email, I semi-seriously tried to convince others in the office to run it with me for 'fun' but many were busy or (understandably) not wanting to take part. Although my attempts to run with someone else failed, I am happy to be part of the University of Sheffield team and look forward to keeping an eye out for others on the day.
What does fundraising fo Genetic Disease Research at the University of Sheffield mean to you?
My role at the University involves working closely with academics across all faculties and promoting their research to a general audience. I started in the role last summer and since then have been fortunate to meet a wide range of academics and learn about fascinating research that is happening across the university. Prior to this role, I wasn't fully aware of the key role that research plays in developing knowledge in fields and finding new solutions to problems. Fundraising for Genetic Disease Research will help Sheffield's scientists continue their important work and discover more ways to treat genetic diseases.
How do you feel about taking on this challenge? 
Usually, I love fundraising as I'm very competitive and motivated to hit fundraising targets. However, as this is my first time running a half marathon, I do keep getting waves of nerves when I think about it. There have been a few tears throughout my training but I'm sure that the excitement on the day of the run and the support of other runners will help me cross the finish line. 
Do you have any advice for those who might be considering taking on a similar challenge for GDR?
Be kind and pace yourself! There are plenty of training guides online so shop around to find one that works for you. Also, spend some time curating a playlist that you can enjoy on shuffle when running.
Join an unstoppable community of donors
United in your passion for Sheffield and how it can shape the world, together you'll help bright minds thrive.