Chiara's Sheffield Half Marathon Story
Meet Chiara Galloni, Postdoctoral Research Fellow in the Department of Molecular Biology and Biotechnology.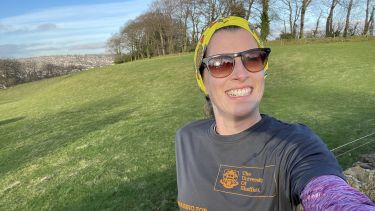 What made you choose to sign up for the University of Sheffield team at the Sheffield Half Marathon and why?  
As a runner, having a race coming up every few months keeps me motivated and focused. On race day, I just love the atmosphere, the excitement, and the boost of happiness and satisfaction I get when I cross the finishing line (hopefully with a new PB).
After taking part in some 10 km races, I wanted to try running longer distances. And the Sheffield Half Marathon was a perfect new challenge. When I heard that the University was putting together a team to fundraise for Genetic Disease Research, I thought that there was nothing more exciting than running a race and raising money for an excellent cause!
What does fundraising for Genetic Disease Research at the University of Sheffield mean to you? 
I joined the University of Sheffield in October 2021 as a postdoc working on therapeutic RNA. Though my research is not directly involved in Genetic Disease Research, I know how fundamental it is to investigate these rare pathologies. I believe my fundraising will not only help to change the lives of families living with the most challenging and devastating diseases, but will also increase awareness. 
How do you feel about taking on this challenge? 
If you had asked a few weeks ago, I would have definitely said I felt nervous about running such a long distance for the first time! However, I've recently had a few Half Marathon test runs with my running buddies, who are also running the SHM. And - with the help of some jelly babies and a lot of chats - I SURVIVED! Now, I feel very excited and much more confident about the challenge ahead. On race day, I still hope to run faster than my test run, but I am happy for what I have achieved so far in such a short amount of time. 
Do you have any advice for those who might be considering taking on a similar challenge for GDR? 
Even if some of these challenges seem very scary at first, nothing is impossible with a strong mindset and a good training preparation. The University organise lots of different fundraising activities so it's easy to find your own way to contribute to this fantastic cause. 
Join an unstoppable community of donors
United in your passion for Sheffield and how it can shape the world, together you'll help bright minds thrive.