Chloe's Sheffield Half Marathon Story
Meet Chloe Davey, HR Systems Adviser in Human Resources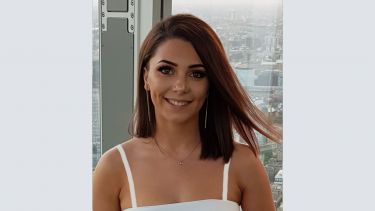 What made you choose to sign up for the University of Sheffield team at the Sheffield Half Marathon and why? 
Each year, I try to take part in a charity event to raise money or volunteer for a good cause. I have always admired those taking part in the Sheffield Half Marathon, but thought that was way past my abilities so have tended to do something less active! It's certainly a challenge, but this year I've decided to give it a go. 
What does fundraising for Genetic Disease Research at the University of Sheffield mean to you?
I'm lucky enough not to have been directly affected by genetic disease, but this is such an important and worthy cause that I'm really pleased to be able to fundraise for. I'm proud to live and work in a city that is conducting pioneering research in this area.
How do you feel about taking on this challenge? 
I'm really nervous! I have no idea how it's going to go. I'm not a strong runner but have been trying my hardest during training, and I'm hoping the adrenaline will carry me through! 
Do you have any advice for those who might be considering taking on a similar challenge for GDR?
My main advice would be to just go for it and don't be afraid to push yourself.  I'm excited that this opportunity will be both a great way to raise money for a good cause and a personal achievement too.
Join an unstoppable community of donors
United in your passion for Sheffield and how it can shape the world, together you'll help bright minds thrive.