Are you up for an adventure in aid of a great cause? This summer is your opportunity to take on your very own virtual Big Walk challenge.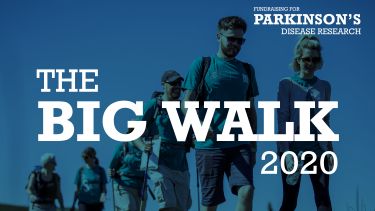 Over the summer, you can take on any distance of your choice and fundraise for Parkinson's Disease research at the University.
You can complete one of our Big Walk 2020 distances (23.6 or 36 miles) or take on your own. It can be 15 miles in one day, or 50 miles across two months. The choice is yours.
Take advantage of the sunny days and school holidays, and be part of first ever virtual Big Walk!
How you can get involved
In four simple steps you can be lacing up your shoes for Parkinson's research.
Decide your walking distance and if it will be over multiple days
Choose your fundraising target, the bigger the challenge the more you can raise!
Create your Just Giving page by visiting our Just Giving Parkinson's appeal page and clicking 'start fundraising'

You can now link Strava to your Just Giving page to keep track of distance

Request your free Parkinson's fundraising t-shirt to proudly display on all of your walks
Share your progress and keep up with others using #TUOSBigWalk on social media
How your fundraising could make a difference
Here are some examples to help you set your target or choose how much to donate to the cause:
£30

fund use of a machine to assess the effect of a drug treatment on individual patients' cells
fund two hours of research by our early career scientists

£60

keep cells from Parkinson's patients alive for four days to use for research
help to cover the cost of a clinical trial for a day

£90

purchase equipment which helps researchers run 15 experiments to look deeper into Parkinson's patients' cells

£130

purchase chemicals to help researchers run 20 experiments to understand how the body disposes of damaged cells in Parkinson's patients
help fund training for the next generation of researchers

£300

help fund a patient biopsy so researchers can develop individual treatments