Partying for Parkinson's Disease research
Mike Lees is gearing up to host 'The Electrik Live Orchestra' - a fantastic tribute band who will be playing the songs of ELO at The South Holland Centre, Spalding on Saturday 26th August. All profits raised will support Parkinson's Disease research at the University of Sheffield.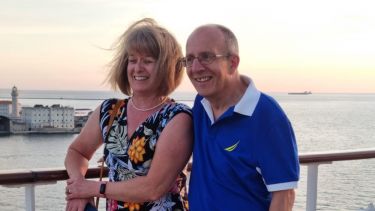 Off
Support Mike's fundraising here
Mike knows first hand how devastating Parkinson's Disease can be. He was diagnosed with the disease in 2012. Since then he's thankfully been able to live a reasonably regular life with the aid of medication. 
But Parkinson's Disease has no cure. The only way to combat his systems is to steadily increase the strength of his medication. One day, when the maximum dose has been reached, this will no longer be an option. And even now, when his medication isn't working correctly, the results on Mike's body can be catastrophic. What's more, the symptoms are different for every person who lives with the disease. 
By chance, Mike heard about the ground-breaking research taking place at the Sheffield Institute for Translational Neuroscience (SITraN). At SITraN, world leading neuroscientists have identified promising compounds that have the potential to slow the progression of Parkinson's. And researchers are working tirelessly to tackle the root cause of the disease, and to develop personalised treatments for patients. 
Mike was impressed with what he read. Though having no existing connection, he decided to fundraise for the University of Sheffield. Within a year, he'd already smashed his original target of £1,000! But where to go from there? He set his sights on hosting a live charity concert. 
The concert will take place on Saturday 26th August, and will feature the The Electrik Live Orchestra, an ELO tribute band. And Mike reassures us that all the classics will be played. Members of the Parkinson's Disease research team will also be there, to speak more about their research, answer questions, and enjoy an evening of classic rock.
Over 100 tickets have already been sold, but there's still room for plenty more.
If you would like to attend this fantastic evening and support Parkinson's Disease research in the process, you can buy tickets for £30 here. ​​​
We wish you all the best with your event, Mike! And we can't wait to hear all about it.