Toby and Josh's fundraising takes them to Mount Kilimanjaro
"With Parkinson's research being a worthy cause close to our hearts... everything made it so special."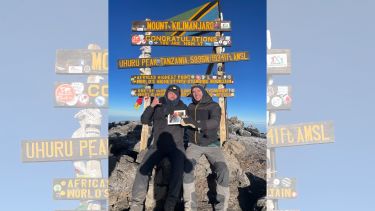 Brothers, Toby and Josh, have recently taken on the immense challenge of climbing Kilimanjaro to raise money for Parkinson's Disease research at the University of Sheffield. 
This challenge is close to the brothers' hearts. As it allowed them to both remember their Grandpa's past in Tanzania and to raise money to fight the disease their Grandma lives with. 
Congratulations to Toby and Josh, your ambitious challenge is inspiring!
Read more about their trek… 
What made you choose to take on this challenge and why?
For years I've wanted to climb Kilimanjaro, to see how I react in times of discomfort but with a big goal ahead - to stand on top of the highest point in Africa, 5,895m (19,340 ft) high. My brother Josh also likes a challenge and wanted to join. Although neither of us are keen hikers, we chose this challenge specifically as our Grandpa was stationed in Kenya post WW2 for National Service; he saw Kilimanjaro but never climbed it, saying "you'd be mad to" when asked if he'd ever given it a go.
What does fundraising for Parkinson's Disease research at the University of Sheffield mean to you?
Sadly we lost our Grandpa three years ago, which had a big impact on our family but particularly on our Grandma (and his wife) June, who lives with Parkinson's. The loss accelerated her Parkinson's symptoms quite drastically and unfortunately symptoms only seem to get worse over time. She has good and bad days. But without a cure or an advancement in treatments, the situation will only deteriorate over time. We'd love to see the money raised go to good use by funding research at the University of Sheffield by the Parkinson's Disease team.
How did you feel about taking on this challenge?
Mixed feelings! We were super excited for the challenge: entering into the somewhat unknown with high altitude, long days of hiking and varying temperatures from 30C when we started to -20C at the summit. With that came nerves and some apprehension, noticeably with both Josh and I when the plane set off from England, realising how high 19,340 feet in the air was! The feelings returned again when landing at Kilimanjaro Airport and seeing the beast of a mountain not just poking, but firmly above the clouds.
Do you have any advice for those who might be considering taking on a similar challenge?
Do it - it's like nothing we've ever experienced. The scenery, other hikers, guides, support staff, food, views, exhaustion, lack of sleep, sun rises, sun sets, night sky, summit day, hiking through different terrain, and it being a worthy cause close to our heart... everything made it so special. Be aware it is tough and look after your body, it's not a walk in the park! Stay hydrated, don't push yourself, don't be afraid to go slow or ask for help, eat well and most of all, enjoy it. We've returned to England with an afterglow, a feeling of accomplishment, adventure, and appreciation for life.
Join an unstoppable community of donors
United in your passion for Sheffield and how it can shape the world, together you'll help bright minds thrive.