"Without the kindness of others, I wouldn't be a researcher at Sheffield"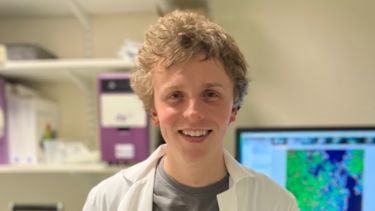 Off
After completing his Masters at Sheffield, it was clear Tobias Moll was a talented neuroscientist. Thanks to individuals who wanted to help secure the brightest minds for Sheffield's world-leading Motor Neurone Disease research, Tobias is still with the University today.
After finishing my Masters degree, I knew I had options. I wasn't entirely sure what a research career would entail, but after completing a 20 week module investigating mechanisms of Motor Neurone Disease, I was eager to see where my work in this area could go.
I knew Sheffield was breaking new ground and I wanted to be a part of that.
There's no better place to make new discoveries than at a world-leading research centre like the Sheffield Institute for Translational Neuroscience (SITraN). The talent we have here spans multiple disciplines. And the way we collaborate with clinicians, nurses and the patients themselves helps increase the number and success of clinical trials.
There are a lot of unanswered questions about Motor Neurone Disease. But I'm really proud of our research. Knowing that one day we will see a breakthrough is incredibly motivating.
Understanding the complexities of this frightening disease is no easy task and there's a lot of work to be done. But we already know so much more than we did just a few years ago. 
Thank you for being as passionate about this research as we are. Your support gives researchers like me such a boost of confidence, especially early on in our careers. It's easy to feel isolated when you work in a lab most of the time. But knowing there are people like you out there who want to push this work forward just as much as us, makes such a big difference. Thank you.

Dr Tobias Moll

Postdoctoral Research Associate, Sheffield Institute for Translational Neuroscience
More funding leads to more results
Whether you're a scientist or not, we all know more funding leads to more results. During the pandemic we saw this in action with the speed of the vaccine. Everyone thinks it's amazing that the medical community found such an effective solution so quickly. But when you have that much investment, it's expected. More funding directly translates to better results, for any condition or disease.
Pursuing a career in research is usually something people fall into. Because they have a passion, excel at their studies, complete a PhD and discover there's potential in their research. But unfortunately there are a lot of people who aren't as lucky as me.
My work is funded by people who can see that what we're doing at Sheffield is special. Without them, who knows where I'd be—potentially not at Sheffield and potentially not working on MND.
You can ensure Sheffield retains the very best research talent. Please consider a gift today.
Join an unstoppable community of donors
United in your passion for Sheffield and how it can shape the world, together you'll help bright minds thrive.