"With the right resources, it's possible to overcome harsh climates and grow food"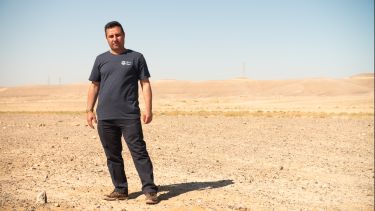 Off
A pioneer of the Desert Garden project, Dr Moaed Al Meselmani joined forces with Sheffield researchers back in 2018. From there, his vision has inspired hundreds of individuals to make a big difference for a community with very little.
Using old mattress foam to replace soil for plants is a strange concept. But we knew if we could make it work, it could change lives. Today, we can say it definitely has.
Thanks to enormous public generosity, the future of our part-research, part-humanitarian project, Desert Garden, is secure. 
To date, the donations of hundreds of individuals have helped train thousands of refugees in Jordan. These communities have learnt how to use hydroponics and the simplest of materials to create farms that grow nutrient-rich food in the harshest of environments.
Working together to make change happen
After visiting my fellow Syrians in the Zaatari refugee camp and seeing the impact these micro-farms have, I'm extremely proud of what we've helped create.
If my work has shown me anything, it's that people, no matter their circumstances, are extremely resourceful. If you see a problem, using what's available means you can react faster and smarter. Which is exactly what we did with Desert Garden. From the science to the building materials and even the funding.
With the help of the Sheffield community we created something bigger than we could have imagined.
What we've learned with Desert Garden is that, with the right resources, it's possible to overcome harsh climates and grow food. As humans we ponder what our future world will look like. As scientists we rely on people to champion our work and make it possible. But we're all indebted to universities like Sheffield. Because only together, can we meet the challenges head on.
You can ensure innovators like Moaed never miss an opportunity. Please consider a gift today.
Join an unstoppable community of donors
United in your passion for Sheffield and how it can shape the world, together you'll help bright minds thrive.