Accelerating the development of gene therapies into life-changing treatments for patients.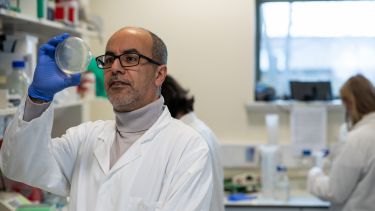 The Gene Therapy Innovation and Manufacturing Centre (GTIMC) is one of three national gene therapy innovation hubs funded by LifeArc and the Medical Research Council (MRC), with support from the Biotechnology and Biological Sciences Research Council (BBSRC). The three dedicated hubs will advance the clinical development of new genetic treatments, with potential to transform care for millions of patients including those with rare and life-threatening genetic diseases. Hubs will be at King's College London, NHS Blood and Transplant in Bristol and the University of Sheffield.
The GTIMC will tackle the major challenges in gene therapy development for some of the most devastating rare diseases. A national network of partners, facilities and training programmes will allow us to keep pace with translational discoveries being made in relation to new and potentially life changing treatments for patients.
Gene therapies
Gene therapy is a promising treatment option for more than 7,000 rare diseases that currently have no cure. Gene therapies rely on engineered virus carriers as vehicles for the delivery of synthetic genes that correct disease-altered changes in multiple organs of the human body. 
Gene Therapy Innovation and Manufacturing Centre (GTIMC)
The GTIMC will enable new gene therapies to benefit patients more quickly. The state-of-the-art centre brings together academic institutions, NHS trusts, non-profit and industry partners across the north of England, Midlands and Wales enabling academic-led clinical trials of novel gene therapies. 
The GTIMC will deliver essential translational and regulatory support alongside extensive training and skills programmes to enable upskilling and address shortage of skills in Good Manufacturing Practice (GMP) manufacturing.
The centre will utilise highly efficient processes to manufacture clinical grade adeno-associated viruses (AAV) and provide all the necessary quality assurance, regulatory certification and governance for human trials at Advanced Therapies Treatment Centres and NHS trusts within the GTIMC and the national network.