The Gene Therapy Innovation and Manufacturing Centre (GTIMC) brings together partners from the North of England, the Midlands and Wales.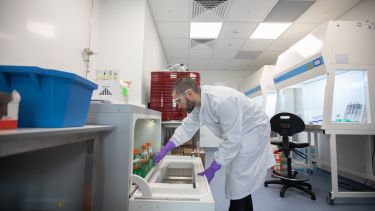 Off
Our partners include:
Cell & Gene Therapy Catapult
Centre of Process Innovation (CPI) 
University of Birmingham
University of Liverpool
The Midlands-Wales Advanced Therapies Treatment Centre [MW-ATTC]
University of Leeds
University of Leicester
University of York
Cardiff University
University of Bradford
Northern Health Science Alliance (NHSA)
NHS Hospital Trusts of Sheffield, Leeds, Birmingham Women's and Children Hospital
Leeds Teaching Hospitals NHS Foundation Trust
Genomic Laboratory Hubs
Lonza AG
Advanced Manufacturing Research Centre (AMRC)
National Horizons Centre (NHC)
National Institute for Biological Standards
The GTIMC will align with the new Accelerating Research & Development for Advanced Therapies (ARDAT) consortium to enhance global regulatory harmonisation, biobanking and safety of advanced therapies.
---
Partner with us
We are proud to work in collaboration with a number of charities, global institutes and leading global organisations and seek new and exciting opportunities to further enhance our translational research.
By working together we believe we can find novel solutions to the biggest rare disease challenges and help to change lives.
To work with us contact Prof. Mimoun Azzouz