Dr Clare Gardiner
Division of Nursing and Midwifery, Health Sciences School
Senior Research Fellow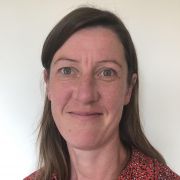 c.gardiner@sheffield.ac.uk
+44 114 222 2038
Barber House Annexe
Full contact details
Dr Clare Gardiner
Division of Nursing and Midwifery, Health Sciences School
Barber House Annexe
3 Clarkehouse Road
Sheffield
S10 2HQ

Profile

I joined the University of Sheffield in 2015 as a Vice-Chancellor's Fellow, undertaking a Fellowship project on the costs of palliative care in the last six months of life. I previously worked as a Senior Lecturer at The University of Auckland, New Zealand, before which I was a Lecturer and Research Fellow at the University of Sheffield.

I have been involved in palliative and end of life care research for over 8 years, and have published over 50 papers in peer review journals. I have been involved in a number of international research projects, totalling over £3 million of funding to date.
Research interests

My research interests are in palliative and end of life care, and ageing and older people. I am particularly interested in research concerning economic aspects of palliative care, particularly the costs of family caregiving. I have further research interests in social isolation in the elderly, and interventions to reduce loneliness including befriending. I am currently working on a Fellowship project which explores the costs of palliative care in the last six months of life.

Financial support for family caregivers

This research project explored what financial support is available for family caregivers of people who have a terminal illness or are approaching the end of life. 

Current Projects

Gardiner C. The cost of dying: a mixed methods study to explore the costs of palliative care. University of Sheffield Vice-Chancellor's Fellowship. 2015-2019

Gott M, Gardiner C et al. Can volunteer visiting services reduce social isolation and loneliness amongst older people? Ministry of Business Innovation and Employment (MBIE). National Science Challenge New Zealand. 2014-2015.

Goyder L, Ingleton C, Gardiner C et al - Integrate health technology assessment for evaluating complex interventions. INTEGRATE-HTA. European Commission. FP7-HEALTH-2012-INNOVATION-1. 2013-2015.
Publications

Journal articles

Chapters

Conference proceedings papers

Other
Teaching interests

My teaching interests are in research methods and palliative and end of life care. I currently supervise PhD students in the areas of palliative and end of life care.
Professional activities

I sit on the Editorial Advisory Board for the journal Palliative Medicine. I have been a member of grant review panels for the University of Auckland. I review grants for a number of UK and international funding bodies. I am a reviewer for a number of academic journals in the areas of ageing and end-of-life care.