Boosting healthy ageing in South Yorkshire with Age Better in Sheffield
The Healthy Lifespan Institute and the Age Better in Sheffield (ABiS) partnership are working together to ensure the legacy of 'Age Friendly Sheffield' is delivered for the South Yorkshire region.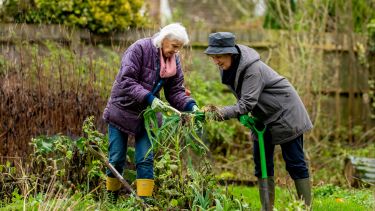 The Healthy Lifespan Institute and the Age Better in Sheffield (ABiS) partnership are working together to deliver the legacy objective of 'Age Friendly Sheffield', which is based on the active ageing paradigm developed by Healthy Lifespan Institute co-director Professor Alan Walker and Tony Maltby (Honorary Healthy Lifespan Institute Senior Research Fellow). This legacy vision will adopt a life-course approach and is not confined to adults over 50.
Age Better in Sheffield is a partnership of individuals and organisations who work together across the city to tackle loneliness and isolation for people aged 50 and over with co-production and co-delivery at its heart. Funded by The National Lottery Community Fund for the past six years, and led by South Yorkshire Housing Association, it is part of the national £78 million Ageing Better National Lottery programme built to support people in later life.
This collaboration brings significant benefits for the Healthy Lifespan Institute that align with our mission to lead multidisciplinary scientific efforts to understand, delay and prevent the onset of multimorbidity. It will establish the Institute as a key regional presence in the area of Healthy Ageing, and in turn work to further The University of Sheffield's commitment as a civic university. Tony Maltby leads from ABiS in forging the collaboration to:
Implement a programme of work that will deliver the legacy aims of ABiS with a focus upon knowledge transfer
Establish the Healthy Lifespan Institute and the University of Sheffield as a vital contributor in the ageing space in the Mayoral Combined Authority South Yorkshire
Deliver much needed impact to the community
Recently, the ABiS partnership received extension funding on top of an original six year, £6 million of funding from the UK Lottery Community Fund. Co-production for this bid resulted in six new strands being identified as areas of focus for the legacy work.
Six focus areas for the ABiS partnership
In collaboration with the Healthy Lifespan Institute and others: 
1.   We will activate our commitment to Age Friendly in our city and region through developing the right architecture (governance and digital) to drive this legacy beyond the commissioned programme.
2.   We will influence key decision makers locally and nationally. We will make the case on the social and economic benefits of driving an Age Friendly agenda and the powerful impact of true co-production.
3.   We will review, share and champion our approach to co-production, emphasising that co-production has driven the success of the ABiS programme.
4.   We will leave a "living impact" by developing a clear mechanism for sharing learning from our programme and for dissemination of knowledge on Age Friendly, co-design and tackling social isolation and loneliness.
5.   We will sustain the positive impact and reputation of Age Better in Sheffield by ending our commissioned programme well. We will have a robust plan for supporting our participants and partners with the formal end of the commissioned programme.
6.   We will continue to respond to Covid-19 and will challenge the way that the pandemic has reinforced negative stereotypes and perceptions of ageing.
---
Contact us
Flagship institutes
The University's four flagship institutes bring together our key strengths to tackle global issues, turning interdisciplinary and translational research into real-world solutions.