The Healthy Lifespan Institute at the University of Sheffield has a pioneering approach to multimorbidity, the presence of two or more of the chronic health conditions that create disability and poor quality of life in old age.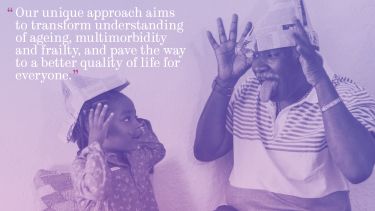 The Healthy Lifespan at The University of Sheffield is helping people live fulfilling, independent lives for longer by:
Understanding ageing as a lifelong process and its relationship with later life multimorbidity and frailty
Pioneering medical treatments to prevent multimorbidity and boost resilience in frail older adults
Developing policies and best practices to optimise the social, environmental and economic factors that influence how we age
Analysing the most effective combinations of social and behavioural change to promote healthy ageing
Co-producing with service users, patients and carers to devise solutions that work in real life settings
Training future generations of top quality researchers dedicated to transforming ageing
Transforming the experience of ageing
We are shifting the focus from old age to the ageing process across the lifecourse in order to prevent multimorbidity and age related frailty.
For many, longer life means living with multiple chronic diseases: osteoporosis, osteoarthritis, cardiovascular disease, COPD, cancer and Alzheimer's, reducing quality of life and generating huge health and social care costs. Despite living longer, the number of years we spend in good health is declining. In the UK, more than three-fifths of those aged 65 and over have multimorbidity, the presence of two or more chronic diseases, which leads to frailty and subsequent loss of independence.
The problem is a global one. According to the World Health Organisation, the proportion of the world's population over 60 will nearly double from 12% to 22% between 2015 and 2050 and, as a result, all countries face major challenges in providing health and social care systems that can cope. In response, the UK Government has pledged to ensure that people can enjoy at least five extra healthy, independent years of life by 2035, while narrowing the gap between the experience of the richest and poorest. 
The Healthy Lifespan Institute at the University of Sheffield unites more than 140 leading researchers from a wide range of disciplines in medicine, social science, engineering and science in a shared mission - to make lives better for people as they age. 
Together we will pioneer new medical treatments and approaches to healthy ageing, help individuals make informed lifestyle choices, and work with governments and other institutions to try to ensure that everyone can lead an independent, fulfilling life for longer.
Flagship institutes
The University's four flagship institutes bring together our key strengths to tackle global issues, turning interdisciplinary and translational research into real-world solutions.