The Healthy Lifespan Institute at the University of Sheffield has a pioneering approach to multimorbidity, the presence of two or more of the chronic health conditions that create disability and poor quality of life in old age.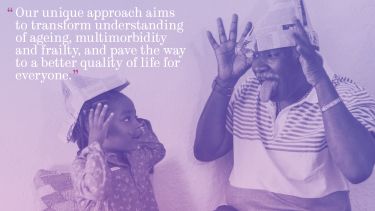 Who are we?
The Healthy Lifespan Institute is the UK's first research institute entirely dedicated to the understanding and prevention of multimorbidity and frailty. 
We bring together over 180 academic researchers from different disciplines to provide a uniquely holistic view of the factors that impact how we age. 
We're pioneering new medical treatments, health and social care policies and public health guidance across the lifespan, to help people age better and have healthier, more independent lives for longer. 
What is multimorbidity?
Around the world people are living for longer but spending more years in poor health, often living with multiple chronic diseases such as osteoporosis, osteoarthritis, cardiovascular disease, cancer and Alzheimer's.
In the UK 50% of people aged 65 and over have multimorbidity which is the presence of two or more chronic diseases. This is a growing issue, with the WHO predicting that the global population of over 60 year olds will nearly double from 12% to 22% between 2015 and 2050. 
Multimorbidity is one of the major challenges of our time, not only in terms of public health but also in terms of designing health and social care systems that can cope with rising demand.
What is frailty?
The process of biological ageing is the result of the accumulation of damage to our DNA and cells to the point where they don't work properly anymore. Not only does this increase our risk of multimorbidity, it also increases our risk of developing frailty as we age. Frailty is a condition that primarily affects older people, resulting in a loss of physical and mental resilience which can lead to reduced independence and lower quality of life.
Our unique approach
There are many factors which affect how we age including, socioeconomic status, environment, occupation, diet and lifestyle. By taking a whole life course approach to ageing we're finding ways to intervene earlier to help prevent multimorbidity and frailty. 
Often, age-related health conditions are treated in isolation but this single disease approach neglects the complexities that come with multimorbidity. A person with several conditions might have to take a different medication for each, these may then interact with each other and reduce their effectiveness or cause unwanted side effects.
By moving on from the single model of disease we're able to explore the complex interaction of factors which lead to the development of chronic conditions. For example, we've discovered that heart disease can directly cause brain dysfunction which can lead to dementia. This research is vital as it means that we can find new treatments that help delay, or even prevent, both conditions. For example we're developing drugs known as geroprotectors. These treat multiple diseases simultaneously, making treatment safer and more effective for patients.
What does the Healthy Lifespan Institute do?
We're pioneering new practices, policies and products to prevent multimorbidity and boost resilience in frail older adults.
We're influencing society by developing policies and best practices to optimise the social, environmental and economic factors that influence how we age.
We are working with service users, patients and carers to devise solutions that work in real life settings.
We're researching the most effective combinations of social and behavioural change to promote healthy ageing across the lifespan.
We're forward thinking. We're training future generations of top quality researchers dedicated to transforming the experience of ageing.
For more detail about what we do - see our workstreams
Flagship institutes
The University's four flagship institutes bring together our key strengths to tackle global issues, turning interdisciplinary and translational research into real-world solutions.