Our unique approach aims to transform understanding of ageing, multimorbidity and frailty, and pave the way to a better quality of live for everyone.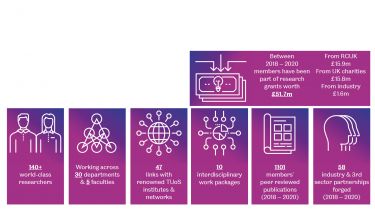 The Healthy Lifespan Institute at the University of Sheffield comprises more than 140 leading researchers from across five faculties and 30 departments. It is led by the medical and social sciences, with a unique focus on improving health across the life course by preventing multimorbidity – the presence of two or more chronic health conditions – and age-related frailty.
Our expertise is wide-ranging, from age-related diseases and the underlying mechanisms of ageing to social policy and practice. Our mission is to apply this expertise, in close interdisciplinary collaboration, to design and test interventions throughout the life course to help everyone live fulfilling, independent lives for longer.
We work with national, international and regional organisations to apply our knowledge, and share the outcomes across the UK and globally. Our experienced team delivers innovative research in key areas of expertise including: active ageing and other social policies related to population ageing; age-related diseases including musculoskeletal, cardiovascular and neurodegenerative conditions; underlying mechanisms of ageing such as DNA damage, senescence and inflammation; public health; life course ageing; social gerontology; nursing and social care; and public involvement and co-production to name a few. Underpinning our programme of work is the development of novel computational models to predict and accurately measure diseases' trajectory.
We have a long history of practical innovation, applying learning from our research to create change in public policy, clinical practice and social care, which make life better for people as they age. Our expert academics hold key roles in medical societies in the UK and Europe. We are very proud of our pioneering team.
The Institute also works across other areas which have an impact on health throughout our lives, such as obesity, smoking, alcohol and the social and political determinants of health and wellbeing. We provide evidence and briefings to government and key organisations to influence changes in health and social policy.
The Healthy Lifespan Institute brings together a wealth of expertise in multimorbidity and healthy ageing. We are strongly committed to collaboration across disciplines and we are actively developing and mentoring a new generation of research leaders.
Flagship institutes
The University's four flagship institutes bring together our key strengths to tackle global issues, turning interdisciplinary and translational research into real-world solutions.