The case for an intersectional life course perspective in understanding unequal ageing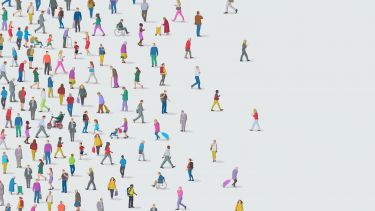 Research has shown that gender, ethnicity, and social class have a strong impact on our health. Yet the simple fact is that no-one is just a man or woman, or just white or black, or just working class or middle class, but instead we have multiple characteristics that shape our lives.
This 'intersectionality' has received an increasing amount of attention in health inequalities research recently. It suggests that treating social characteristics such as age, gender, ethnicity and socio-economic position separately does not reflect our lived reality. This is because we all have multiple characteristics and are therefore potentially subject to many types of discrimination.
Yet the intersectionality literature has paid very little attention to the nature of ageing or the life course, and gerontology has rarely incorporated insights from intersectionality.
A new paper published in the European Journal of Ageing by Dr Dan Holman and Professor Alan Walker from the Healthy Lifespan Institute and Department of Sociological Studies at the University of Sheffield calls for intersectionality to be incorporated with a life course perspective. By including intersectionality researchers can deliver new insights into unequal ageing, especially with respect to health.
We are calling for a conceptual dialogue between the frameworks of intersectionality and the life course to answer the many questions that arise from beginning this endeavour. It is now widely accepted that a life course perspective is essential to understanding unequal ageing, with health being a fundamental dimension, for both society and the individual.

Dr Dan Holman

Research Fellow at the Department of Sociological Studies at the University of Sheffield and Healthy Lifespan Institute member
We need the next generation of gerontological students to understand that ageing is unequal. There are a number of ways inequality interlink and these can operate simultaneously and often in combination.
"We need to move towards the integration of both perspectives, based on a dialogue with mutual benefits. We have demonstrated that there are clear synergies and great scope for mutual enrichment between intersectional and life course perspectives, particularly regarding categorisation, agency, patterns of inequality and discrimination. These synergies hold exciting opportunities to bring new insights to unequal ageing and its attendant health inequalities.

Professor Alan Walker

Co-director of the Healthy Lifespan Institute and Professor of Sociological Studies at the University of Sheffield.
Contact us
Flagship institutes
The University's four flagship institutes bring together our key strengths to tackle global issues, turning interdisciplinary and translational research into real-world solutions.