Interactions between hypoxic signalling and anti-inflammatory signalling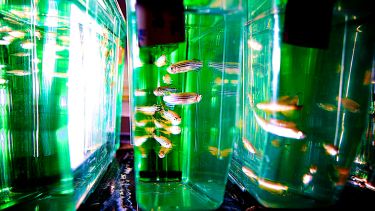 An increase of low-grade chronic inflammation is just one factor that can contribute to multimorbidity, the presence of two or more chronic health conditions. Inflammation and hypoxia, a condition where not enough oxygen makes it to the cells and tissues in the body, go hand-in-hand in a variety of age-related diseases such as rheumatoid arthritis, stroke and the growth of solid tumours.
The study, by a team that includes researchers from The University of Sheffield, using zebrafish as an in vivo screening tool, discovered that specific glucocorticoid anti-inflammatory drugs, e.g. corticosteroids can activate HIF signalling.
Hypoxia Inducible Factor (HIF) signalling plays a key role in the response of cells to oxygen levels in human diseases and was recently acknowledged by the 2019 Nobel prize for Physiology and Medicine. Corticosteroids are the most frequently prescribed drugs used to treat inflammatory diseases linked to hypoxia.
To get a better understanding of how these two pathways interact in vertebrates the team put a thorough in vivo genetic analysis on zebrafish larvae using mutants and chemicals that can alter these signals.
The work showed that HIF and glucocorticoid signalling form an homeostatic feedback loop: glucocorticoid signalling, via its receptors GR and MR, is essential for HIF signalling activity (see Figure). Conversely, constitutively activated HIF signalling is able to suppress both glucocorticoid signalling and steroidogenesis. This suggests that if a primary stimulus is a high level of HIF signalling (i.e. hypoxia) the resulting downregulation of glucocorticoid activity can promote inflammation. In a situation where glucocorticoid levels are high, for instance when taking glucocorticoid anti-inflammatory drugs, stimulation of HIF activity may promote hypoxic adaptation.
A separate collaborative paper from the van Eeden, El-Khamisy and Bryant labs showed that HIF not only adapts cells to hypoxic insults, it also strongly protects animals from genotoxic damage. The paper also showed that high HIF activity allows embryos to survive levels of DNA damage that are lethal for normal embryos. DNA damage is another factor that can lead to cell senescence and organismal aging. Therefore, glucocorticoids might also protect the genome of cells via HIF activation.
Our work really emphasises the enormous complexity of these signalling events, HIF has a "good side" with respect to aging in that it protects the cell against DNA damage, but on the other hand it interferes with glucocorticoid function, promoting inflammation, a pro-aging factor. If we understand how HIF does this molecularly, we might be able to specifically stimulate the good, and not the bad effects of this signalling pathway

Dr. Freek van Eeden

Healthy Lifespan Institute member and Senior Lecturer, Department of Biomedical Science at the University of Sheffield who led the research
Professor Sherif El-Khamisy, Healthy Lifespan Institute Co-Founder, Deputy Director, and Professor of Molecular Medicine at the Department of Molecular Biology and Biotechnology added "Our work not only highlights the importance of carefully regulating HIF signalling to maintain a fine balance of genome stability and inflammation, but also illustrates the power of zebrafish to dissect these roles. It paves the way to unlock the secrets of human aging and devise strategies to combat drivers of age-associated multimorbidities, including inflammation and genomic instability"
Read the full study in PLOS Genetics journal.
Flagship institutes
The University's four flagship institutes bring together our key strengths to tackle global issues, turning interdisciplinary and translational research into real-world solutions.