New task force of international researchers to understand the role of ageing in Parkinson's Disease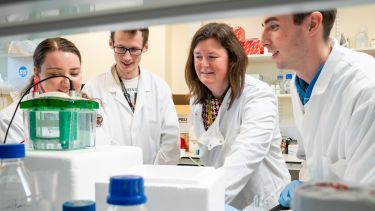 Researchers from 29 institutions, across 11 countries, will join forces in a new network funded by the Michael J Fox Foundation for Parkinson's Research to identify the best models to study the effect of ageing in Parkinson's Disease development. 
Models of Parkinson's Disease are a critical step in the advancement of understanding of the disease and in the development of new interventions. Parkinson's Disease is a complex multisystem disorder with a spectrum of features and a wide range of in vitro and in vivo models. Each model displays specific combinations of features and/or stages of the disease. However ageing, a risk factor for Parkinson's Disease, is not often considered in the development and use of animal models, potentially omitting an important component of the disease and missing opportunities for the development of new interventions and their translation.  
To combat this, Prof Ilaria Bellantuono, Co-Director of the University of Sheffield's Healthy Lifespan Institute has joined forces with Prof. Heather Mortiboys from the University of Sheffield's Neuroscience Institute to lead a group of experts and develop a much needed, systematic way to investigate if, and how, ageing increases susceptibility to Parkinson's Disease. 
Prof. Ilaria Bellantuono, Professor of Musculoskeletal Ageing said "Studies to understand whether ageing is a driver of Parkinson's Disease have given contradictory results due to the heterogeneity of the disease. The many models and plethora of measurements available to assess the development of Parkinson's Disease have made it difficult to compare studies. By combining the expertise of key international leaders in ageing and Parkinson's Disease we can identify the models that are best to study the effect of ageing in Parkinson's Disease development. These models will be essential to test new drugs to ensure a more successful translation from preclinical trials to patient benefit."
The project, PD-AGE, brings together interdisciplinary groups of clinical and pre-clinical researchers in Parkinson's Disease and ageing, from academia and industry, to form a network to reach consensus on, prioritise, coordinate, and systematically investigate the effect of ageing in multiple in vitro and in vivo Parkinson's Disease models, to share knowledge, data and resources. 
The network will:
Deliver a roadmap of which animal models of Parkinson's Disease should be prioritised for testing in ageing studies, and learning from best practise on how to design experiments in ageing organisms (mice rats and non human primates).
Determine what should be measured for the characterization of each animal model and which protocols should be standardised in animal studies.
Reach consensus on when to use induced Pluripotent Stem Cells (iPSCs) for studying the role of ageing in Parkinson's Disease and identify differences in protocols, which may affect the generation of cellular ageing features.
Establish consensus on which reagents and tools are required for the study of models such as rats and Non Human Primates  and ageing.
Create a centralised web-based data repository with details of models developed, data generated (e.g. pathology, omics, biochemistry, cell biology, phenotype) including negative data, standard operating procedures and stored tissues to be made available for pathology and gene expression studies 
Establish an early career research group to build capacity 
For more information please contact Ilaria Bellantuono or Heather Mortiboys.