Intergenerational Justice, Consumption and Sustainability in Comparative Perspective.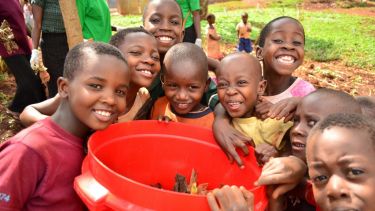 INTERSECTION is a multidisciplinary arts and social research partnership between the Universities of Sheffield and Leeds, looking at the things people buy and use and their attitudes to environmental conservation across time and space. This research is taking place with people of all ages in mid-sized cities in China, Uganda and the UK. We are using a range of different research methods, including interviews, a cross-national survey, public discourse analysis and intergenerational theatre, to explore different generations' consumption aspirations and their understanding of responsibility for environmental problems.
This project is funded by an Arts & Humanities Research Council Care for the Future grant.
Rich countries like the UK have, since the 1940s, benefitted from rapid economic growth and technological innovation, accompanied by the rise of consumer culture. In this period people accumulated unprecedented property and wealth and developed resource-intensive ways of living. Contemporary financial and ecological crises suggest that current younger and future generations - despite perhaps anticipating a similar standard of living - will not be able to consume in the same way. The effects of unsustainable consumption are felt not only across time, but across the globe by poorer communities on the frontlines of climate change.
Meanwhile, emerging economies seek to eradicate poverty and provide lifestyles equivalent to those enjoyed by Western consumers, even as rich countries call for reductions in consumption at home and abroad. This international struggle for intergenerational justice raises questions about whether past and present generations of consumers owe a debt, and to whom?
INTERSECTION is a cross-national, multi-method research project ongoing in mid-sized cities in three contrasting national contexts: China, Uganda and the UK. The project employs public discourse analysis, survey data, interviews and intergenerational theatre to look at different generations' consumption aspirations and their understanding of responsibility for environmental problems. Our aims are to think comparatively about sustainability in advanced and emerging economies and to de-centre debates about intergenerational justice, which has overwhelmingly been researched from the Anglophone perspective. We are interested in how different socio-cultural and economic contexts influence understandings of sustainability as a personal, social and environmental practice, including beliefs about what it is important to sustain for future generations as a matter of justice.
Contact us
ICOSS,
219 Portobello,
University of Sheffield,
Sheffield S1 1DP
England, United Kingdom
Principal Investigators
Professor Gill Valentine (g.valentine@sheffield.ac.uk)
Dr Robert Vanderbeck (vanderbeck@leeds.ac.uk)
Contact us
ICOSS,
219 Portobello,
University of Sheffield,
Sheffield S1 1DP
England, United Kingdom
+44 114 222 7900