Intergenerational Community Theatre
One of the ways we have explored our research themes of intergenerational justice and sustainability is through theatre workshops with people of different ages. This strand of the Intersection project is led by Jane Plastow, Director of the Leeds University Centre for African Studies and Professor of African Theatre.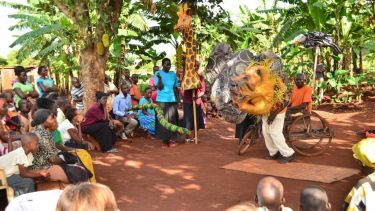 Our intergenerational theatre workshops involved community members ranging from experienced performers to people who had never acted before. They were invited to come together, first with others of a similar age, to share their views on sustainability through creative activities such as image theatre, role-play, devised drama, song, poetry and drawing. These activities developed into short scenes that were shared and discussed in intergenerational workshops, and finally performed in community settings where families, friends and neighbours  reflected on the issues raised and the concerns and hopes shared by young and old.  In each city, the scenes developed reflect how local people responded to our project themes, taking a broad view of sustainability to include issues such as gender equality, austerity and overconsumption.
To find out more about the workshops and performances in Jinja (We Are Walukuba), Sheffield and Nanjing, please follow the links below.
This intergenerational community theatre work is the subject of an INTERSECTION/Gravel & Sugar documentary 'Osbomb, Love and Supershop: Performing Sustainable Worlds'. This film was shared with the cast and local community at public screenings in each city, and can now be viewed online in full here. Short films showing some of the scenes created by each generation in each city, can additionally be viewed on our website at the link below.
Contact us
ICOSS,
219 Portobello,
University of Sheffield,
Sheffield S1 1DP
England, United Kingdom
+44 114 222 7900