Write About Time was a creative writing workshop for all ages at Moor Theatre Delicatessen on 31 July 2016, led by Sheffield Next Generation poet Helen Mort.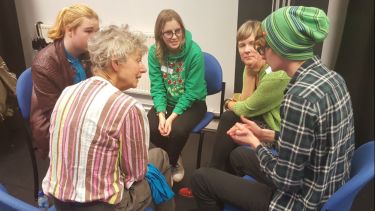 The idea for this collaboration came about when we were conducting social research interviews for INTERSECTION in Sheffield. We noticed that several older people chose a favourite poem to convey their ideas about 'something sustainable'. Here are some extracts from poems that people shared with us:
---
A man lives for as long as we carry him inside us, for as long as we carry the harvest of his dreams, for as long as we ourselves live, holding memories in common, a man lives.

Brian Patten

So Many Different Lengths of Time
---
...I, being poor, have only my dreams. I have spread my dreams under your feet; tread softly because you tread on my dreams.

W. B. Yeats

Aedh Wishes for the Cloths of Heaven
---
…the world offers itself to your imagination, calls to you like the wild geese, harsh and exciting – over and over announcing your place in the family of things.

Mary Oliver

The Wild Geese
---
And that will be England gone, The shadows, the meadows, the lanes,
The guildhalls, the carved choirs.
There'll be books; it will linger on
In galleries; but all that remains
For us will be concrete and tyres.

Philip Larkin

Going, Going
---
In the workshop, different generations came together to Write About Time through paired, group and individual creative activities. This creative writing was performed in front of an audience (and video camera!) at the end of the day, with some people reading their work aloud for the first time. Follow the links below to see the Sheffield Time Capsule poem created on the day, other poems and short stories inspired by the workshop and films of some of the performances. You can also read more about the workshop in a guest blog from Ros Arksey.
Contact us
ICOSS,
219 Portobello,
University of Sheffield,
Sheffield S1 1DP
England, United Kingdom
+44 114 222 7900