Workshops hosted by ITN-MIMIC.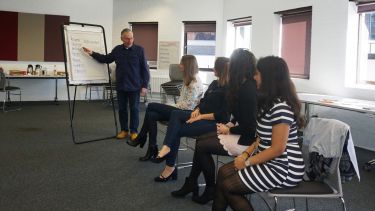 Workshop I was prepared and run by Dr Kate Millar (Director of the Centre for Applied Bioethics at the University of Nottingham) and David Vaughan-Thomas (communication-­skills coach in VOX Coaching Ltd, writer and TV and video director) on 7-9 March 2017 at the University of Sheffield.
The purpose of the Bioethics workshop was to highlight the value of thinking about ethical issues in research, introduce concept of ethics and discuss how it applies to scientific research. The most important part was to stimulate discussions with the fellows about good practice and how they might manage ethical issues as they arise.
The second part of the workshop aimed to help fellows to learn and improve their communication skills. The goal was to transform their ability to present information and ideas, equip them with practical techniques for engaging and inspiring audiences.
---
What emerged over the two days were four distinct personalities; each, in their own way, capable of leadership, and each with the drive and energy to see an idea through to its conclusion.

David Vaughan-Thomas

Vox coaching
---
Part I - Bioethics
Introduction to Research Ethics
Why is ethics in science important?
What is ethics?
Classification of Ethics
Ethical Values in Research
Ethics in Research Planning and Management
Responsibilities of Groups
Codes of Conduct
Case Studies
Ethical questions and your research?
Part II - Advanced Communication Skills
Making effective presentations and posters
Engaging your public
Personal Impact and Confident Networking
Confidence at Meetings; authority and authenticity
---
Workshop II was prepared and run by Dr Caron Fraser Wood between 16th and 17th January 2018 in Sheffield.
The purpose of this workshop was to provide fellows with the opportunity to learn about the process of creativity and innovation, including how to manage innovation through to implementation. The workshop allowed fellows to understand the key principles of project management as applied to real research projects, and to explore and practice some very practical tools and techniques in order to ensure that the project is delivered creatively, on time, within budget and to the required quality.
The course focused particularly on:
scoping
project planning including contingency planning
risk management
stakeholder management
appropriate reporting
simple techniques for bringing creativity and innovative solution delivery to work – and make problem-solving more effective
where ideas come from and where we are at our most creative
how to bring creativity to work
a recipe for innovation
a 7 step process for applying creativity and innovation to solving research project problems
a simple process for ensuring that good ideas become great solutions
---
Workshop III: Mini-MBA
Workshop III was run in two parts. The first part was prepared and run as webinars by Dr Chris Coleridge from University of Cambridge (Senior Faculty in Management Practice Director, Cambridge Judge Launchpad, Cambridge Judge Business School) on 4th and 6th July 2018.
The workshop offered students to improve their knowledge about basic principles of entrepreneurship, entrepreneurial strategies and business models. Fellows were able to attend live webinars, interact with the instructor and other participants.
The second part focused on Intellectual Property Rights was prepared and run by Jean-Paul de Hoog, Intellectual Property Manager at MIMETAS on 19th October 2018.
Part I - Webinars
Webinar 1: Entrepreneurial behaviours and opportunities
Research suggests successful entrepreneurship often results from "effectual" logic and actions rather than a causal approach—in other words, starting with means rather than with ends. This webinar explores what this logic means for the behaviours an entrepreneur needs to exhibit, and how that interacts with the availability and quality of "opportunities" for entrepreneurship.
Webinar 2: Entrepreneurial teams
This webinar examines the foundations of successful teamwork and how they apply in the situation of the nascent venture (which, increasingly, is founded on teams.) It also examines the principles behind the split of equity in a team.
Webinar 3: Entrepreneurial business models and strategy
This webinar examines the concept of the business model with a particular emphasis on the customer and the value proposition, and reviews four "lenses" on competitive strategy which help explain the principles of making commercial ventures profitable.
Webinar 4: Customers and going to market
This webinar examines the way the nascent entrepreneurial venture should approach the business of gaining customers and finding avenues for revenue growth.
Part II - Intellectual Property Rights
Following, an introduction on IP rights, the emphasis was placed on patents, since a patent is the most complex and financially relevant IP right for a typical biotech startup.
After a short break the students worked on a casus in which they had to compare the products and strategy of an actual company with the contents of the patent company mentions on their website.
The purpose was to show that:
reading and understanding a patent is complex but also a matter of experience and following rules
commercial plans and commercializing a patent do not always combine as planned
Throughout the course and especially in the last part, the focus was on the combination of business and IP, i.e. costs, seeking advice, legal aspects, the international character of IP rights and what to say in a business plan about IP rights.
---
Workshop IV: Career development
Workshop IV was prepared and run by Sarah Blackford, Career Consultant, between 1st and 2nd August 2019 in Leiden, The Netherlands. Workshop IV consisted of two sessions incorporating facilitator presentations, practical activities and group discussions.
Session 1 - Career planning and development – knowing yourself, knowing the job market:
Discovering your strengths and challenges
Exploring the job market and identifying employer needs
Skills analysis and linking to career choice
Self-presentation and promotion
Writing an effective CV and covering letter
CVs and covering letters for different purposes
CV peer assessment
Review and preparation for interview workshop – STAR technique
Session 2 - Career planning and development – successful interview technique:
Four mock interviews with external interviewers: non-academic and academic posts
Peer coaching, reflection and action planning
A world top-100 university
We're a world top-100 university renowned for the excellence, impact and distinctiveness of our research-led learning and teaching.