Institute of Work Psychology: The Early Years
Peter Warr writes about the history of the Institute of Work Psychology.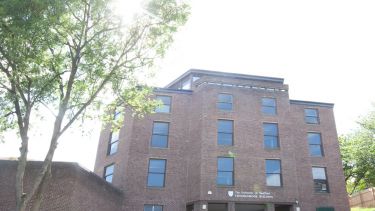 Off
Written by Peter Warr
The Institute of Work Psychology (IWP) has carried out research continuously in Sheffield since its establishment in 1968.  It then had a different name and source of funding.
In the 1960s, university psychology departments focussed almost entirely on experiments in the laboratory with university students or rats as their 'subjects'. New students of psychology had almost no exposure to field research, theory-based occupational studies were extremely rare. Very few psychologists worked as practitioners in organisations. Across the country there were almost no commercial psychological consultancies. It was common for psychologists to describe themselves as 'behavioural scientists' rather than with the suspicion-inducing title 'psychologist', and almost no students looked for careers in the occupational field.
The University of Sheffield had created a new Department of Psychology in 1960, appointing Dr Harry Kay as its initial professor. Harry had previously been a Lecturer in Psychology at the University of Oxford, and his distinguished professional record included being President of the Experimental Psychology Society and a council member of the British Psychological Society. His research had mainly been in the laboratory, but he was academically unusual for the period in having a strong desire to develop psychological ideas for application in the wider world. Harry Kay was the founder of the Social and Applied Psychology Unit, which would become today's Institute of Work Psychology.
Between 1964 and 1967, a committee of the Medical Research Council (MRC) reviewed the scientific needs of applied (excluding clinical) psychology. MRC had long operated  by reviewing a scientific area to assess whether additional support from the Council could substantially advance scientific knowledge. In some cases, a reduction in MRC support might be recommended.
In part, the 1964-1967 review arose from MRC's historical involvement in health-related aspects of occupational psychology. The Council had been principal sponsor of the Industrial Fatigue Health Board from 1918 and the Industrial Health Research Board from 1928. Furthermore, no other British government research council at the time was responsible for applied psychology.
The Social Science Research Council (SSRC) had just been created (in 1965), but was itself beset with financial and other problems. This became the Economic and Social Research Council (ESRC) in 1983, after an influential government minister obtained considerable publicity for arguing that 'social studies' did not meet the criteria for being 'scientific'.
MRC's 1964-1967 review of applied psychology concluded that the field was nationally important but that its academic base required strengthening: academic education should be expanded, and the Council should fund an additional long-term research unit.  Based on a proposal from the Sheffield Department of Psychology, MRC decided that this new unit would be located at the University of Sheffield from 1 October 1968, with Harry Kay as its Honorary Director. In that part-time honorary role, Harry would work with a full-time Assistant Director (Peter Warr, previously a Lecturer in Social Psychology in the Department), and as in other units academic staff would be employed by the Medical Research Council.
Harry and Peter chose the name 'Social and Applied Psychology Unit' (SAPU) and its initial terms of reference emphasised 'applied cognitive studies'. Research was divided into attitudes, motivation, learning and decision-making. Research sought to consider 'factors influencing productivity and efficiency' and was accompanied by laboratory investigations with newly available computers. At the time interactive computer based investigations were almost unheard of. These required the construction of specialised equipment and the skills to create tailor-made programs and interfaces. The SAPU staff included two technicians.
As with other units of the Medical Research Council, progress would be assessed every five years through written reports and the submission of new research proposals. At each review an evaluation committee visited the SAPU to discuss these reports and future plans. The Unit's written accounts (often extending across more than 100 pages) were also appraised by up to ten anonymous reviewers.
In 1968, SAPU sought to progress the country's limited academic research into applied psychology. The profession was tiny by today's standards and with their MRC-prescribed national aim, SAPU staff came to see four activities as particularly important:
To enhance the prestige of applied work in the eyes of established academic psychologists. This was to be addressed by demonstrating intellectual rigour, delivering presentations at reputable academic conferences, and the producing an academically respectable textbook. The authors of the textbook "Psychology at Work" demonstrated applied thinking focused on theoretical developments.
The country required a workforce with research training and experience in applied psychology. Organisational PhD research at Sheffield expanded as additional supervisors and projects became available through the new unit. Undergraduate and postgraduate teaching about applied themes was increased across the Psychology Department. In September 1975 a Masters degree in occupational psychology was introduced, emphasizing the subject's academic respectability to sceptical colleagues.
The UK lacked an academic journal in occupational psychology after the closure of the National Institute of Industrial Psychology. Peter Warr proposed to the British Psychological Society that it should create an academically oriented international Journal of Occupational Psychology. This was first published in 1975.
Positive assessment of the new unit would come mainly through increased quality and quantity of research, in Sheffield and in UK more widely.  It was necessary to work closely with business and other organisations, ideally through longitudinal or experimental research designs.  Increased visibility for SAPU and the subject more widely, meant conference and written publications were given high priority; visits from internationally-eminent researchers were encouraged. A short book about SAPU's research projects between 1968 and 1992 can be obtained without charge by emailing k.m.nielsen@sheffield.ac.uk.
The 1970s saw a widespread national concern for the 'quality of working life' and 'industrial democracy', at a time when workers were often suggested to be 'alienated' from society. SAPU research explored the nature of psychological wellbeing at work: the factors that impact it and ways to improve it.  These themes were formalised in 1973, when Harry Kay moved to become Vice-chancellor at Exeter University and Peter Warr's research proposals for continuation of the Unit were accepted by the Medical Research Council.  Peter became the Unit's full-time Director and continued in that role for the following two decades with Toby Wall working as Assistant Director.
Staff numbers varied slightly across time, by the 1990s it employed around 35 people. In October 1980 the Social Science Research Council bought into the organisation, and its title was adjusted to become the 'MRC/SSRC Social and Applied Psychology Unit'.
By the 1990s the MRC's priorities had shifted to focus exclusively on health and ill-health rather than non-medical forms of psychology.  With alternative funders available for applied areas of psychological research, MRC decided to close SAPU. When it closed in 1996, almost all senior occupational psychologists in the United Kingdom had started their career here.
Discussions between staff of the Medical Research Council, the University of Sheffield and SAPU led to a decision that the University would finance its continuation on the expectation that additional income would be obtained. Five senior members of SAPU became employees of the University from October 1994 within a new Institute of Work Psychology (IWP), which operated in parallel with the SAPU for its first two years.  The new Institute continued as a free-standing organization, housed in the Department of Psychology but with links to the School of Management.
The University's structure now requires all research centres to be located in a single department, so around 2010 the Institute transferred entirely to within the School of Management. In their new location IWP staff have combined externally-funded research with a wide range of teaching. This includes the MSc course in Occupational Psychology which was introduced by its predecessor more than forty years ago.
Flagship institutes
The University's four flagship institutes bring together our key strengths to tackle global issues, turning interdisciplinary and translational research into real-world solutions.