Job crafting for sustainable return to work
One of our research themes at IWP is work and wellbeing – how we can ensure workers thrive at work. Karina Nielsen writes about the tools used by those returning to work and how job crafting can impact this.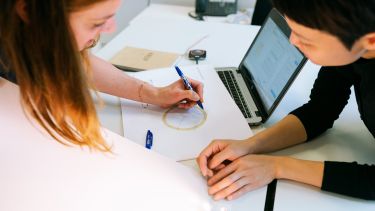 By Karina Nielsen, Chair of Work Psychology, Director of the Institute of Work Psychology
Wellbeing at work
One of our research themes at IWP is work and wellbeing – how we can ensure workers thrive at work. I have previously been conducted research on return to work for workers with common mental disorders, such as stress anxiety and depression. According to the Labour Force Survey, stress, anxiety and depression accounts for 44% of work-related ill-health and 57% of working days lost (HSE, 2018).
It has always bothered me why the focus is on the employee rather that how work can support returning workers. In many cases, work has contributed to people developing common mental disorders and if people return to the same job without organisations and workers themselves making any adjustments then they are at risk of becoming ill again.
In 2018, Dr Joanna Yarker, Affinity Health at Work, and I were awarded funding from the ESRC Productivity Insights Network to explore how organisations, line managers, colleagues and workers who return can develop strategies for straying and thriving at work post-return. We conducted interviews with 39 employees and 20 line managers who had experience supporting workers after return to work.
Job crafting
We have recently published a paper on the strategies that workers use themselves post-return. We used the lens of job crafting and examined what steps workers took to adjust their job to fit their needs after return to work. We found that workers reported three types of job crafting. First, they made adjustments to the work tasks. As workers with common mental disorders often experience problems concentrating, our participants reported that they structured their work differently. They divided their work into smaller subtasks and created more structure in their day. They also started introducing mini-breaks between switching between tasks to clear their heads and make clear demarcations between work and leisure time. Many stopped checking emails after work hours and did not take their laptop home with them. Some went for a walk or did other activities immediately after work to make a clear boundary between work and home life.
Relational job crafting was another way of adjusting the work to their changed needs. Participants reported they tried to find quiet spaces away from colleagues that allowed them to concentrate and prevented them from feeling overwhelmed in social settings. They also communicated to colleagues what their needs were and engaged in setting expectations about when colleagues and managers could expect a response to enquiries.
Finally, they also engaged in cognitive job crafting, they started to view their job differently. They started to focus on having a life outside work rather than seeing work as their main and sometimes only purpose in life. Some also became engaged in supporting others with common mental disorders in the workplace. Supporting others were seen as turning their experiences into something that others could learn from.
Resources
These findings are described in a paper published in International Journal of Rehabilitation Research.
The overall report of the project can be found on the productivity insights network.
We have also developed a toolkit that helps workers themselves, colleagues, line managers and HR to support the post-return to work phase. This toolkit can be found in the research section of the affinity health at work webpage.
Flagship institutes
The University's four flagship institutes bring together our key strengths to tackle global issues, turning interdisciplinary and translational research into real-world solutions.