The History of Linguistics is the study of what people have done with and thought about language in the past.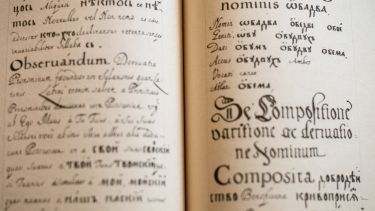 Off
In her book The History of Linguistics in Europe from Plato to 1600 Vivien Law writes, by studying the history of linguistics, we can form a pretty good idea of how people saw the human being in any given epoch. Consequently, the History of Linguistics sits right at the heart of the Humanities - an interdisciplinary window on the world.
Sheffield has the most active community of historians of linguistics in the UK. We can boast the only professorship in the History of Linguistics, as well as three members of the committee of the Henry Sweet Society for the History of Linguistic Ideas and two members of the editorial board of Historiographia Linguistica.
The subject is taught on a range of undergraduate and postgraduate modules. We have a thriving community of research students and would welcome more, especially those interested in the history of linguistic ideas from an interdisciplinary standpoint.
Cluster members
Flagship institutes
The University's four flagship institutes bring together our key strengths to tackle global issues, turning interdisciplinary and translational research into real-world solutions.