Preparing for your course
Welcome to the Department of Mechanical Engineering ranked 3rd in the Russell Group for 'Overall Satisfaction' in the National Student Survey for 2020.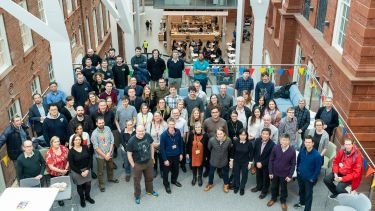 Mechanical engineering is one of the broadest fields of engineering you can study, exploring engineering science and how it can be applied to a wide range of different environments and industries.
As a mechanical engineer, you can make an impact in industries including manufacturing, product design, transport and aerospace, healthcare, energy and sustainability, sports engineering, safety, the built environment, and more.
At Sheffield, you'll have the chance to study from this wide range of subject and impact areas as part of your course, taking advantage of the diverse expertise and specialist teaching on offer across the Department.
We are creating the industrial leaders of the future. Our innovative teaching and cutting-edge research make us one of the leading mechanical engineering departments in the country. Employers throughout the world know that our graduates have what it takes to meet all kinds of challenges.
The Diamond

 Our students have access to the latest equipment and technologies, including a dedicated natural robotics, computer, control and power systems laboratory, as well as teaching laboratories in our state-of-the-art engineering building, The Diamond.

iForge

 The iForge is housed in the University's flagship Diamond building, our innovative facility, and is giving students the opportunity to collaborate, create and 'make' outside of their academic studies.

 Accommodation

 Student vlogger Paula takes you around our accommodation in Ranmoor/Endcliffe - voted in the top 5 for student accommodation in the UK.
Mechanical Engineering student Jess gives us a little look into life during lockdown and how the department has supported her.
Follow Tom - one of our Engineering students - across an average day (for him), including group industrial project meeting, problem class and lectures, then into the Peak District for some longboarding!
Our series of Live Lectures and Activities that showcase our digital learning activities in Mechanical Engineering. Each Lecture and Activity will give you a taster of one of our key topics, either through a talk, a recording of the Live Lecture or an activity to try at home. 
We hope you enjoy this series, that it makes you excited to start learning with us in September and that it gives you a taster of what life will be like as a Mechanical Engineering student at the University of Sheffield. 
 Lecture 1: 'Are you tough enough?  An introduction to ductile and brittle behaviour'

You may want some jelly sweets, not just for snacking on, but to join in a demonstration. 

We also have some follow up material to this Lecture below:

Complete site about brittle failure. 

https://www.doitpoms.ac.uk/tlplib/brittle_fracture/index.php

A nice overview of the livery ships

https://www.mdpi.com/2078-1547/7/2/20/pdf

A nice overview of DBTT

https://www.tf.uni-kiel.de/matwis/amat/iss/kap_9/illustr/s9_1_1.html

Lecture 2: Inkjet printing

If you would like to read more about Inkjet printing take a look here

Lecture 3: Geometric shapes

 Lecture 4: Designing your material to fit your needs
Sheffield Formula Racing is the University of Sheffield's branch of Formula Student which is Europe's most established educational engineering competition run by undergraduate student teams to design and build single seat racing cars.
They have set you a challenge below...
You can learn more about Formula Student on their website.
Activity 

Read through each graphic carefully then click on this link to help you find the solution - https://www.sheffield.ac.uk/prospectus/courseDetails.do?id=H3002020

Solution

We hope you enjoyed this activity! Feel free to send in your answers to Admit.mec@sheffield.ac.uk along with any questions you have. 
Find out about the world of Manufacturing Technology with Dr Patrick Smith and challenge yourself with the exercise below.



Introduction to Manufacturing Technology 

Hi everyone! I hope you and those you love are in good health. I'm looking forward to sharing my enjoyment and fascination with Manufacturing Technology when you arrive in Sheffield later this year. I'd better say who I am, my name is Dr. Patrick Smith, and I deliver the Manufacturing Technology course. (I also research inkjet printing, additive manufacture and teach Engineering Ethics).

What I want to do in this activity is talk a little about Manufacturing Technology and give you an exercise that you can do over the next few weeks.

Manufacturing Technology

I think that one of the things that makes us human is our ability to think about the future and to produce objects, items and artefacts that we can use for future tasks.

A book that helped me form this opinion is "A History of the World in 100 Objects" by Neil MacGregor. I really like this book, partly because I have an interest in history but also because everything in the book has been made. The oldest object discussed in this book is a chopping tool from the Olduvai Gorge in Tanzania, which is about 1.8 to 2 million years old. The beauty of this tool is many-fold but, for me, it's the fact that it still works.

Making objects is something we've been doing for a very long time. The words we use to describe the processes have changed beyond all recognition and the processes themselves have been researched, developed, improved and expanded but the core remains: we produce objects, and we use those objects today, tomorrow and for as long as we need (or want) them.

Manufacturing Technology is divided into three main areas: Casting, Machining and Joining. All three areas have a shape in mind, and with many objects all three technologies are used.

Casting involves a mould that gives the shape and the material that is often molten but can also be powder. 

Machining also has two components. The workpiece and the tool. The workpiece is shaped into the desired form by the tool. The cutting tool from almost two million years ago is a workpiece, parts of it – chips – were removed.

Joining is the final technology and involves two or more components. Two of the components are the things we want to join together and often the third is the substance we use to perform the joining (but not always – see me later this year for further details).

Exercise

The above is a very basic summary of Manufacturing Technology but has, hopefully, got you think about how we make objects. The exercise I'd like you to do is as follows:

1.Look around your home for at least two objects.

2.Examine each object and ask yourself what it is used for. 

3. List what the object's uses are and identify the most important aspects Identify which of the three

4. Manufacturing Technology areas has been used to produce the object – often all three have been used, so think about which one came first.

In my example, I've chosen a teaspoon partly because I fancy a cup of tea (and maybe a biscuit) but mostly because if I had chosen a mobile phone this would be a very long example.

So, let's go through our four steps

1.I found a teaspoon. 

2. Teaspoons are used to stir tea, to dispense foodstuffs such as sugar and to look nice 

3. Uses and Importance

Use

Importance

Comments

Dispensing foodstuffs

Very high

Nothing about the spoon should introduce poisons or contaminants into the foodstuff
Accuracy of dispensing is important so the volume of the bowl needs to meet standards

Stirring a fluid that is going to be consumed

High/Very high

As before we need to ensure the spoon is food-safe.
The spoon has to be able to withstand high temperatures (tea is often made using boiling water

Handling

High/Very high

The spoon has to strong enough to cope with being handled for many years

Appearance

High/Medium

Nobody wants to put an unattractive spoon into their tea (try and use that sentence in a different context)

Appearance will affect the chances of the spoon being bought and being used.

Appearance would also provide reassurance that the spoon is food-safe

4. As you can see from the above table, there's quite a few demands we are making of our spoon – and if you want to stop at this point and perhaps repeat the exercise for the second object that's fine.

For the spoon we can't see any obvious joins. There aren't any nuts and bolts, there's no sign of glue or any suggestion that two different metals have been used. So we can be confident that joining hasn't been used. However, it's likely the other two technologies have been used.

Casting has been employed to form the spoon's basic shape. So we need to make a mould to produce the spoon as well as containers to handle the molten metal. The heads of our spoons are smooth which says we need to polish them. Polishing is a form of machining; we are removing very small chips. Polishing takes time, which increases cost, but it adds value.

And, with one of our spoons you can see that a final process has been employed to produce a handle that presumably aids with grip. It's possible that it's more expensive since an additional step has been involved.

I hope the above has given you a small introduction to Manufacturing Technology and I hope you've found it informative. Please have fun with the exercise, choose something simple, and see you later this year.

Patrick
We hope you have enjoyed our series of summer activities, if you have any questions please contact us using the details below.
Social media