Encouraging positive change through music psychology

Natasha Hendry
Department of Music
Alumni
Alumni student, Natasha Hendry, is a music psychologist, researcher and social activist. She is a popular speaker and advisor for mental health in the music industry and Black lives in music. Learn about how returning to education with the Department of Music changed the course of her career.
Why did you study music?
Music has been my life and my community for so many years.  As a performer stepping back into education after 20 years, I had experience from the inside of the many needs within my music community, and really wanted to give back and make a positive change where possible. 
Why did you study music at the University of Sheffield? 
I chose to study at Sheffield University because after researching, I learned it offers some of the best there is in the UK for Music Psychology, which is still a relatively new discipline. 
Attached to the University is the only Music and Wellbeing research centre in the UK.  They also offered a really flexible distance course which worked with the rest of my life at the time and meant I did not have to relocate.
What did you enjoy most about studying the MA in Music Psychology?
Studying music psychology at Sheffield encouraged me to do some of my best work.  Despite being a distance-learner, my supervisor was incredibly supportive and in-touch. 
I was challenged to research areas that were both personal to me and lacking in the wider field, which centred the voices of Black and Global Majority communities.
How did studying a postgraduate degree help with your future career?
The research I carried out on my Masters' programme has literally changed the trajectory of my career. 
Until I started studying, song-writing and music had been my voice and the means I used to advocate for change. When I started studying music psychology I realised that I could develop a new superpower via research, which could equally be used to speak out about injustice and encourage positive change.
What aspect of the music industry to do you work in now?
I now frequently talk on panels and at conferences sharing my findings and knowledge surrounding music and mental health and the experiences of the Global Majority in music education and industry.
Upcoming events?
Why Music x Music Mark: Black History Month and engaging with Black Culture all year-round
5th October 2023
4.30pm - 5.30pm
Online (Zoom)
Music Mark series with Nate Holder returns, with this instalment featuring Natasha Hendry as she discusses the importance of engaging with Black history & culture throughout the year in the music curriculum, for the benefit of all students.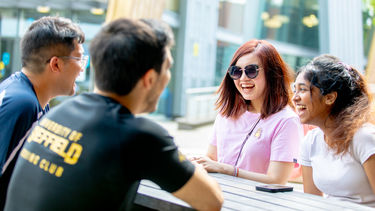 International Merit Scholarships
We offer a generous package of financial support for international students including 75 undergraduate scholarships worth £10,000 towards the annual tuition fee and 125 postgraduate taught scholarships worth £5,000 towards the tuition fee. Applications are now open for existing offer holders.