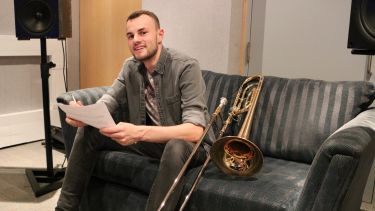 Off
Research in the Psychology of Music uses psychological theories and methods to interpret and understand musical sounds, musical behaviours, and the effects of music. The subject is strongly inter-disciplinary, and generally combines empirical data collection, through observation, experiments, surveys or otherwise, with theoretical innovation. The scope of research in Sheffield ranges from fundamental questions related to music perception and cognition to applications of music psychology in everyday life. The breadth of research is reflected in its three main research units – Music, Mind, Machine in Sheffield, Music & Wellbeing, and Sheffield Performer & Audience Research Centre.
The University of Sheffield has the longest established and biggest grouping of music psychology expertise in the UK. In any single year we have around 12 research students working on psychology of music or music education projects, over 30 students on our three taught MA programmes, and a number of research assistants and post-doctoral scholars. We have strong links with the Department of Psychology and other cognate departments, through joint supervision of postgraduate and undergraduate research projects, and through research collaborations between staff.
Psychology of Music is an active research area and has seen considerable growth in the UK in recent years. Sheffield is an important contributor to the area both at a national and international level through research networks and collaborations, participation in and organisation of international conferences and events, contributions to the international research literature, and by educating music psychologists who come from across the world. These connections benefit staff and students and ensure that research and teaching are conducted at the highest internationally competitive level.
---
I think one of the best things about studying music psychology at the University of Sheffield is feeling surrounded by a community of lecturers and fellow students who are passionate about this topic. This sense of community, along with the specialised facilities to carry out my research, always made me feel that my research interests and initiatives were supported, and they made my time as a PhD student not only academically productive, but very enjoyable.

Julian Cespedes

PhD researcher
---
Examples of funded research projects
Music in the workplace (AHRC)
Teaching and learning of expressive music performance (AHRC)
Music perception in hearing impaired listeners (WRoCAH)
Dropping in and dropping out – exploring experiences of lapsed and partial arts engagement (AHRC)
Earworms (tunes that stick in our heads) as we age (British Academy)
Demystifying music review (Swiss National Science Foundation)
Music to support sleep (Experimental Psychological Society)
Space and embodiment in headphone listening (WRoCAH)
Cross-modal perception of music (British Academy)
Expressive nonverbal communication in ensemble performance (WRoCAH Network)
Related courses
Academic staff
Weekly online events
Attend an online event when it suits you, all year round, as an alternative to an open day.
Every Wednesday, Sheffield Live sessions cover different aspects of University life. You can also meet your department and learn more about studying your subject.