Sheffield scientists welcome £50 million investment to accelerate MND research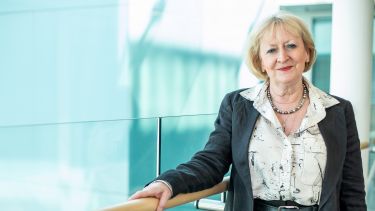 The new government funding will support targeted MND research like the pioneering work conducted by scientists at the University of Sheffield's Neuroscience Institute and NIHR Sheffield Biomedical Research Centre
The investment will transform clinical trials and bring effective treatments to patients within years rather than decades
The funding is part of a wider £375 million investment in innovative research to improve understanding and treatment for a range of neurodegenerative diseases
Sheffield scientists have welcomed the government's £50 million investment to accelerate motor neurone disease (MND) research to bring effective treatments for patients living with the terminal neurodegenerative disease.
The funding, pledged by Prime Minister Boris Johnson, will support innovative MND research like the pioneering work conducted by scientists at the University of Sheffield's Institute for Translational Neuroscience (SITraN) and NIHR Sheffield Biomedical Research Centre.
Professor Chris McDermott, Professor of Translational Neurology at the University of Sheffield's Neuroscience Institute and Consultant Neurologist at Sheffield Teaching Hospitals Foundation Trust, said: "This targeted investment of £50 million will be a catalyst to bring partners from industry and researchers together to transform our approach to clinical trials and bring effective treatments to patients much quicker.
"MND has been sitting behind an impenetrable wall but, over the last few years, chinks have been appearing thanks to our better understanding of the disease. This money will allow us to break into those chinks, rip them apart and enable us to develop effective treatments for patients with MND. 
"We have been making new discoveries which are important building blocks to find a cure for the disease, but the progress has been slow. This funding could potentially lead to effective therapies for patients in years rather than decades."
Professor Dame Pamela Shaw, Professor of Neurology and Consultant Neurologist at Sheffield Teaching Hospitals Foundation Trust, and the Director of the NIHR Sheffield Biomedical Research Centre, said: "Recent pre-clinical and clinical research means that we have a much better understanding of the mechanisms causing motor neuron injury in MND and the best ways of conducting clinical trials to test new therapies. Of all of the neurodegenerative conditions, MND is the condition most ready for translating insights from discoveries in  basic neuroscience into benefits that improve the quality of life and life expectancy of our patients. This significant uplift in funding will allow the major MND research groups across the UK to come together, combine their skills and work with industry partners and MND charities to generate new neuroprotective therapies, offering huge optimism and hope for patients and families facing this cruel disease."  
Professor McDermott has been one of the leading neurologists in the United To End MND campaign, which has been integral to securing the new funding commitment. Launched two-years ago by a coalition of charities including the MND Association, MND Scotland and the My Name'5 Doddie Foundation, the campaign has lobbied the government for more funding in order to find a cure for the debilitating disease. MND kills six people in the UK every day, with a third of those diagnosed losing their lives within just a year. 
Sally Light, Chief Executive of the Motor Neurone Disease Association, said: "The announcement from the government of a £50 million investment into targeted motor neurone disease research is the game-changing news everyone in the MND community has been hoping – and campaigning - for. This funding will drive MND research forward towards treatments and cures and will give people who have been diagnosed with this devastating terminal illness hope.
"Everyone involved with the United To End MND coalition - the MND Association, people with MND, neurologists, MND Scotland and the My Name'5 Doddie Foundation - are all so pleased the government has listened and responded. It is no exaggeration to say the funds the government has committed will change lives – and ultimately save lives."
Sheffield is internationally renowned for its world-class neurodegenerative research and is home to the UK's only Biomedical Research Centre dedicated to Neurology. The National Institute for Health Research (NIHR) Sheffield Biomedical Research Centre (BRC) is a research partnership between the University of Sheffield and Sheffield Teaching Hospitals NHS Foundation Trust, dedicated to improving the treatment and care of people living with chronic neurological disorders. Health and Social Care Secretary, Sajid Javid, recognised the Sheffield Centre and its innovative work in the MND funding announcement.
He said: "The UK is a global leader in medical research. Our world-class research sector was central to the discovery of lifesaving treatments for Covid-19 like dexamethasone and tocilizumab, as well as the development of the vaccine programme which has saved hundreds of thousands of lives.
"We will continue to harness this expertise and innovation to support pioneering projects to find better treatments for those living with motor neurone disease, like the excellent work underway at NIHR Sheffield Biomedical Research Centre where scientists are trialling new drugs to treat the condition."
The new MND funding is part of a wider £375 million package in innovative research to improve understanding and treatment for a range of neurodegenerative diseases. It is hoped research projects pioneered in Sheffield will benefit from the investment to help accelerate translational research. 
Sheffield's facilities and expertise in progressing and generating world-class clinical research into advanced therapies and novel treatments including in MND are set to expand further next year with the launch of a new Gene Therapy Innovation and Manufacturing Centre. The new hub will enhance vital partnerships with biotechnology and pharmaceutical companies to help accelerate gene therapy programmes and clinical trials, at the same time as supporting regional economic growth and job creation. 
Professor Koen Lamberts, President and Vice-Chancellor of the University of Sheffield, said: "This significant government investment will be transformational for research and, most importantly, for patients with some of the most devastating neurodegenerative conditions. 
"We are very proud that our University and Neuroscience Institute are at the forefront of research into finding new treatments for MND and many other rare genetic disorders. Our Gene Therapy Innovation and Manufacturing Centre, which is currently under construction, will also build on our reputation as an international centre of excellence for gene therapeutics.
"I would like to congratulate Professor McDermott and everyone who has campaigned for this vital funding, which will have a real impact on people's lives."
Partner with us
We're proud to work with local and global organisations to further enhance our translational research.
Flagship institutes
The University's four flagship institutes bring together our key strengths to tackle global issues, turning interdisciplinary and translational research into real-world solutions.