Sheffield students dedicate 33,000 hours volunteering in the local community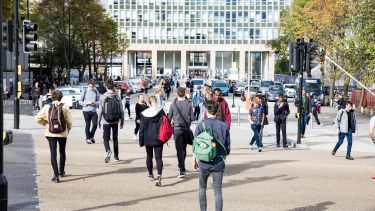 Students from the University of Sheffield have raised over £85,000 and volunteered more than 33,000 hours in the local community over the past 12 months
More than 1,800 students volunteered at charities and organisations across the city including food banks, community allotments, supporting young people with mental health problems, working with refugees and helping older people and adults with learning difficulties
Students have clocked up enough volunteering hours to fly around the world 743 times, watch the entire box set of Friends 393 times, or the equivalent of working a 9-5 job for 16 years
It is the most amount of time that students at the University of Sheffield have ever spent volunteering in a single year
Dedicated students from the University of Sheffield have spent 33,443 hours volunteering to help the local community over the past 12 months.
At a time when businesses and charities have been getting back on their feet after Covid-19, 1,800 students from the University of Sheffield have raised over £85,000 for local charities and volunteered at food banks, community allotments and worked with refugees, adults with learning disabilities, school children and the elderly.
Food Works - an initiative to combat food waste and create a fair and sustainable food system for everyone in Sheffield - is just one of the organisations where students have volunteered over the past year. 
Chris Ley, Community Engagement Officer at Food Works, said: "We have had around 30 student volunteers completing roughly 400 hours cooking healthy meals, sorting through intercepted food, and growing fresh produce at our farm.
"Students from the University of Sheffield have been fantastic. They have really embraced what we are trying to achieve and got involved in our fight against food waste!"
Concerned about how the pandemic has affected young people's mental health, volunteers this year set up the Wellbeing Project - an initiative where volunteers went into secondary schools in Sheffield to talk to pupils about their mental health, provide practical guidance, and signpost to local services. In total, the Wellbeing Project worked with almost 400 young people across the city throughout the last academic year.
The biggest volunteering fundraising initiative of the year was Bummit - returning for the first time since the pandemic, it saw 110 students hitchhike from Sheffield to Barcelona over eight days, raising over £30,000 which was split across five charities: Foodcycle; The Sheffield branch of The Sleep Charity; Manor Community Transport; MAG and Sunflower of peace.
Students also launched a new initiative called Clubbing Crew which supports adults with learning difficulties to enjoy club nights at the Students' Union. The project won a national award at the National Societies & Volunteering Awards 2022 for the impact it has had for people with disabilities.
Professor Koen Lamberts, President and Vice-Chancellor of the University of Sheffield, said: "Our students are welcomed each year by the city, and it is wonderful to see the time they have given back to the community. 
"We are very proud that they have dedicated more than 30,000 hours to support charities, schools and businesses across our region over the last academic year. I would like to thank our students for the time they have given and for the impact they have had on people's lives."
Sheffield students have a long-held tradition of volunteering in the local community and this year have clocked up more volunteering hours than ever before. The volunteering hours are the equivalent of working a 9-5 job for 16 years, flying around the world non-stop 743 times or watching the entire box set of Friends 393 times. 
Sheffield Students' Union President, Liam Hand, said: "Our students have a vast array of different skills they can offer to Sheffield, and it's amazing to hear about all the ways they've helped people over this last year. Giving back over 30,000 hours this year shows the passion they have for helping others and the positive impact they have on our city."
The Students' Union have continued their drive to work with local charities by launching their Change Lab programme, which saw 13 charities come and discuss the work students can do with them to help Sheffield thrive.
More information about student volunteering can be found on the Sheffield Volunteering website.
---
Contact
For further information please contact:
A global reputation
Sheffield is a research university with a global reputation for excellence. We're a member of the Russell Group: one of the 24 leading UK universities for research and teaching.