University of Sheffield highlighted as one of England's best for working with businesses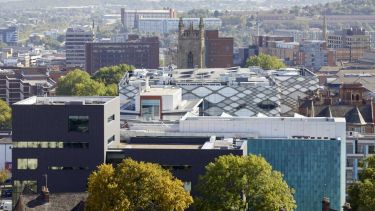 The University of Sheffield has been recognised as one of the best universities in the country for working with businesses, developing IP and commercialising research as well as public and community engagement in the latest Knowledge Exchange Framework (KEF)
KEF is an analysis of data that shows the positive impact higher education institutions make to society. It reveals how universities work with partners locally, nationally and internationally to find solutions to economic and social challenges - known as knowledge exchange
The latest framework places Sheffield in the top 20 per cent for working with businesses, developing IP and commercialising research for the benefit of South Yorkshire and the rest of the UK
Results from the latest KEF also show that the University is 'very highly engaged' with the public and communities and adding to its region's cultural vibrancy
The University of Sheffield has been recognised as one of the best universities in the country for working with businesses, developing IP, commercialising research and public and community engagement, according to the latest Knowledge Exchange Framework.
The Knowledge Exchange Framework (KEF), published by Research England, highlights the University of Sheffield's strength in, and commitment to, working with partners from all sectors to help them find solutions to some of their biggest challenges, as well as major issues facing society, such as health inequality and sustainability.
The KEF was first launched in March 2021 and results from this second iteration again place Sheffield in the top 20 per cent for working with businesses, developing IP and commercialising research. It also places Sheffield as one of the country's leading universities for working with small local firms to big businesses - working with a wide range of partners from across the South Yorkshire region, the North of England, the rest of the UK and around the world.
Results from the KEF also recognise Sheffield as one of best universities in England for public and community engagement - working with partners to co-create projects and activities which add to its region's vibrancy, from festivals and exhibitions to green spaces and regeneration initiatives.
Professor Wendy Baird, Deputy Vice-President for Innovation at the University of Sheffield, said: "Collaboration is key here at the University of Sheffield and increasingly, innovation comes from strong partnerships which allow the sharing of expertise and it's excellent to see these dimensions recognised in the Knowledge Exchange Framework. 
"We're extremely proud that these results demonstrate what we want to achieve with knowledge exchange, which is to assist our communities, businesses, and partners in finding solutions to real-world problems. 
"We place a strong emphasis on not only the South Yorkshire region but also on the rest of the country and the world. The University of Sheffield has a substantial influence and focuses on tackling big challenges such as health inequality and sustainability, while also contributing to the enhancement of business innovation and cultural vibrancy."
Professor Baird added: "Knowledge exchange is a fundamental component of higher education institutions' operations, and here at Sheffield we aspire to continue expanding and achieving on the success of these exceptional results. We're eager to build on this achievement by collaborating with a wider range of partners to further foster innovation and growth."
An example of how the University engages with business can be seen through the work of the University of Sheffield's Advanced Manufacturing Research Centre (AMRC) - an R&D facility on the border of Sheffield and Rotherham that has become a hugely successful model for university and industry collaboration.
The AMRC works with manufacturing companies of any size, from South Yorkshire, throughout the UK and around the globe. The AMRC's relationship with Boeing was instrumental in the aerospace giant's decision to open its first European manufacturing facility in Sheffield in 2018. The AMRC played a similar role in supercar manufacturer McLaren Automotive opening a new manufacturing facility in South Yorkshire later that year. 
Aside from supporting manufacturers, knowledge exchange also includes activities such as how the University develops Intellectual Property (IP) and commercialises its research for the benefit of businesses and society. 
Earlier this year, Northern Gritstone, an investment company founded by the universities of Sheffield, Leeds and Manchester, allocated its first two investments to Sheffield-based businesses. Northern Gritstone struck its inaugural investment of £3.3 million in Opteran, a company spun out from the University of Sheffield that has re-engineered insect brain patterns to solve the fundamental limitations of current state-of-the-art artificial intelligence (AI) and introduce the third wave of AI: genuine brain biomimicry. 
Examples of knowledge exchange also include how the University collaborates with the public and third sectors. During lockdown, researchers from the University's Faculty of Arts and Humanities worked with Kelham Island Museum and local organisations Ecus, Zest and KINCA to develop a web-based app that enabled people from across North Sheffield to share memories and photographs from their community's heritage. The project, named Roots and Futures, is empowering people to discuss the heritage of their local areas and the personal stories that make these places meaningful to them while elevating the voices of underserved communities.
The KEF also recognises the University of Sheffield's role in adding to the region's cultural vibrancy through working with partners from across South Yorkshire to deliver festivals, exhibitions, green spaces and regeneration.
Earlier this month, the University held Festival of the Mind - an 11-day programme of events in which Sheffield's creative industries bring research from the University of Sheffield to life. Free and open to all, the festival celebrated its 10th anniversary this year and has brought more than 150,000 visitors into Sheffield city centre since 2012. The University is also set to bring Off the Shelf - one of the UK's largest literary festivals - to Sheffield, Doncaster, Rotherham and Barnsley next month (14 - 30 October 2022).
Contact
For further information please contact: