Elevating underrepresented voices in Sheffield
The restrictions of the pandemic affected our sense of place, space and community, distancing us from others. One Sheffield-made project overcame this adversity with a digital project that explored the place-based heritage of North Sheffield while elevating the voices of underserved communities.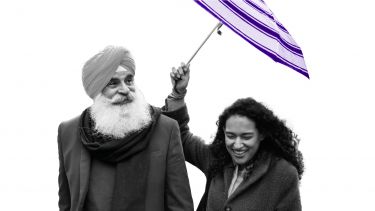 Beginning in March 2020, a research project, "Roots and Futures" started to explore  four regions to the north of Sheffield city centre; Upperthorpe, Netherthorpe, Neepsend and Kelham Island. Its aim, to empower locals to discuss the heritage of their local areas and the personal stories that make these places meaningful to them.
At a time when public spaces were closed and social distancing rules made meeting family and friends impossible, the Roots and Futures project was trying to unite the residents of North Sheffield around its diverse local heritages. Using app-based technology, surveys, interviews, and outdoor events the project devised a way to bring a community together before it drifted apart.
Understanding what makes North Sheffield unique
Netherthorpe, Upperthorpe and Neepsend are some of the most diverse neighbourhoods in Sheffield, with a Black, Asian and minority ethic population of 31.9%. And parts of the community sit within the 10% most deprived areas in the country. 
On the other hand, Kelham Island is home to a relatively new community. The area has strong industrial roots, its factories and workshops having driven Sheffield's steel production from the early nineteenth century until the 1990s. More recently, it has become an increasingly popular area to live and work, but the arrival of new apartment blocks and businesses could threaten the development of a shared sense of identity among residents.
Before the Roots and Futures project began, Zest, a centre for community wellbeing in Upperthorpe, had identified a sense of disconnect between local communities and representations of community heritage in Sheffield. Although people wanted to learn more about their neighbourhoods they also struggled to find reflections of their cultural and migration histories in stories about Sheffield's past.
The idea for the Roots and Futures project was developed before anyone had ever heard of Covid-19, but the pandemic only made resolving this disconnection more important. As communities in these neighbourhoods faced increasing levels of isolation and mental health issues due to COVID-19, Roots and Futures was well placed to facilitate access to the health and wellbeing benefits associated with place-based heritage projects for local communities.
The Roots and Futures team was led by Dr Elizabeth Craig-Atkins from the Department of Archaeology at the University of Sheffield, in partnership with Kelham Island Museum, and local organisations; Ecus, Zest and KINCA. The project set out to engage locals in a collaborative exploration of shared heritage, focusing on generating new knowledge and reflecting on what aspects of the archaeology and history of North Sheffield are important and meaningful to communities today.
The Roots and Futures App: Connecting to our heritage
How do you bring together a community, without actually physically bringing them together and breaking Covid-19 restrictions? 
In answer to this conundrum the team created a web-based app. Reaching 1,078 individuals, app-users could share their memories and photographs, maintaining a sense of heritage and social cohesion - whilst social distancing!
The Roots and Futures app enabled the project to gather a wide range of unique insights from local residents. Along with images and descriptions of historic sites still standing, we received descriptions of places long-demolished. We also heard otherwise undocumented stories that accompanied these places in people's memories"

Dr Elizabeth Craig-Atkins

Department of Archaeology at the University of Sheffield.
The 'Your Sheffield' map feature allowed its users to explore the landscapes, local trails and archaeological excavations happening in their local area; helping them to explore the local landscapes to which they were newly confined. Over the course of the project 44 sites were mapped by participants, often commenting on the changes influenced by development and the decline of industry. This provided individuals with the resources and confidence to safely explore their local area outside, and experience the resultant benefits to their physical and mental health and wellbeing. 
Access the Roots and Futures app and share your stories today
Exploring our hidden heritage
The Roots and Futures project took place alongside the rise of the Black Lives Matter movement and demonstrations in the summer of 2020, protesting the institutional and often violent discrimination faced by Black people, globally. 
At the heart of this project was the intent to celebrate the variety of experiences within North Sheffield's culturally and ethnically diverse communities. Recognising the need for greater representation, alongside the responsibility of researchers to use their skills and resources to support local communities, the project successfully developed opportunities to discuss the heritages of  Black, Asian and minority ethnic populations, which are underrepresented within narratives of the city.
---
"Museums need to show how our grandparents have contributed, how they were invited over to work and also how the women have contributed as well" 
- Project participant
---
Within UK COVID-19 government guidance, the weekly Roots and Futures tea tent was set up in outdoor spaces across North Sheffield providing an inclusive space for locals to discuss heritage in an informal, voluntary setting. Holding these events in outdoor spaces already well-used by local communities such as Zest Gardens and the Ponderosa, allowed people the opportunity to explore their past together through informal conversations. While craft activities gave them the opportunity to document memories of their favourite local places.
Place-based activities, particularly those in green spaces, strengthen feelings of belonging and encourage people to engage with the wide-ranging health and wellbeing benefits of socialising, and spending time in outdoors, as well as encourage greater levels of physical activity.   Supporting members of ethnic minority communities to engage in more of these sorts of activities can, in the long-term, help to reduce UK health inequalities which have become increasingly evident throughout the course of the pandemic.
Locals described that they wanted a more flexible way to learn about their heritage than the traditional permanent exhibitions at local museums, discussing a lack of long-term representation for racialised communities. Place-based exhibitions were considered to provide a greater platform for both participation and representation of such groups.
---
"History needs to not only be in a museum but also in our parks around us" 
- Project participant
"Museums are okay, but my main issue is the lack of permanent displays about diversity. For example, I helped work on a project there linked to the Yemini culture. This display was very good and up for a short while, but they are never permanent, always temporary – and we are not temporary, we are a permanent community in Sheffield and should be represented." 
- Project participant
---
Bridging the gap between academia and society
Roots and Futures used a research methodology called co-production, which works on the principle of everyone working together on an equal basis. Creating research that involves  participants, community organisations, and academics equally, allowed this study to gather greater, richer context from those who have lived experience of the areas, including the challenges faced within them. 
This research amplifies the voice of Black, Asian and minority ethnic populations often excluded from narratives of local history, despite the vast contributions made by them. By supporting populations to actively participate in research on their own terms and in their own public spaces, this research paves the way for future studies to take a respectful approach to inclusivity. 
To learn more about the heritage of North Sheffield, you can explore the online exhibition hosted by Kelham island Museum here or explore more using the links below.
Written by Annabel Brown, Corporate Communications Marketing Intern
Flagship institutes
The University's four flagship institutes bring together our key strengths to tackle global issues, turning interdisciplinary and translational research into real-world solutions.