Climate Crisis Education: Joshua Forstenzer launches partnerships with Union of Justice and Synergie Family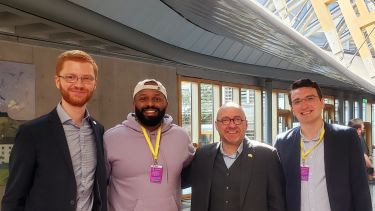 After successfully bidding for a Higher Education Innovation Fund (HEIF) grant, our own Josh Forstenzer has begun working with Union of Justice and Synergie Family this semester on the project 'Educating for Catastrophe: What should a Climate Crisis curriculum look like in practice for children and young people, communities and leaders?'
The UN Framework Convention on Climate Change, the Paris Agreement and Action for Climate Empowerment agenda all call on governments to educate, empower and engage citizens, communities, organisations on policies and actions relating to climate change. However, the broad outline, content, and pedagogic goals of a Climate Crisis curriculum have not yet been mapped out by academics or practitioners. Drawing on Forstenzer's research expertise in the philosophy of education and democracy, this project will begin to fill this gap by placing personal and collective flourishing at the heart of the Climate Crisis curriculum through partnership with two organisations, Union of Justice and Synergie Family. Taking a 'narrative' based approach to social learning and civic action this project aims to develop concrete proposals for how to transform educational curricula and pedagogies in the face of the climate emergency. 
Union of Justice is a European-wide, independent, people of colour-led organisation, based in both Sheffield and Brussels, dedicated to working at the intersection of racial justice and climate justice. It aims to defend, protect, and extend human rights and basic entitlements in the fight for racial equality across Europe while bringing about a just climate transition by building capacity among under-represented communities, engaging in leadership training, political education, campaigning and advocacy work on climate justice. Union of Justice has a constantly growing network, with over 1000 members who are grassroots activists, researchers, artists and changemakers. The Executive Director of Union of Justice is the former Sheffield Lord Mayor and former Member of European Parliament (MEP) for Yorkshire and the Humber Region, Magid Magid. 
Synergie Family is a social enterprise, head-quartered in Marseille, with more than 550 employees working throughout the French territory carrying out various inclusive educational and cultural activities with children, adolescents, and adults, mainly in disadvantaged communities. Synergie Family approaches educational challenges with a spirit of exploration and experimentation in order to creatively reveal and foster the talents and aspirations of young people. Synergie Family has also launched L'Épopée, which is a "village of educational innovation" in Marseille, where 200 social organisations work together (in 12 000 m2 in the historic former Ricard factory) innovating to create the future of education. Synergie Family has received support from the French Ministry of Culture and regularly works with major international partner organisations, such as UNICEF.
Forstenzer's partnership work with these organisations focuses on activities that aim to develop civic skills and virtues to help communities confront and, hopefully, overcome political inaction in response to the climate crisis. The project also involves direct engagement with interested elected officials and their staff, as well as various Sheffield-based charities and campaigning organisations working on sustainable education.
About the project, Josh Forstenzer said: "I am honoured to work with such impressive partners on our pedagogical responsibilities and collective responses to what is, undoubtedly, the central problem of our time – the climate crisis. This is a really exciting opportunity to demonstrate how practical philosophy can help inform cutting-edge thinking and practices that improve the civic agency and personal efficacy of young change-makers. But above all, it is a chance for me to learn from these organisations' great work, as well as from children, teenagers, and young leaders about what educational experiences can ultimately prove valuable and empowering in the face of this towering collective challenge."
Magid Magid, Executive Director of Union of Justice, added: "I am thrilled to partner with Dr Joshua Forstenzer once again, whose vision, dedication and ability to design and deliver educational experiences to bolster change-making are, to my mind, unparalleled. And, as ever, I am also pleased to collaborate with the University of Sheffield."
Naïm Zriouel, Deputy Director General of Synergie Family, also said: "L'Épopée is a place dedicated to rethinking the future of education by fostering innovation and partnerships.  Our partnership with Dr Joshua Forstenzer is a real opportunity to further connect with the research and university ecosystem. This is valuable to us in helping us measure the impact of our own educational innovations, as well as analyse the purpose, meaning, and ultimate rationale for our activities. As our very first 'philosopher-in-residence', Dr Forstenzer will be diving into the field, working with our educators and learners, as well as with the public, elected-officials and other academics to help us refine our pedagogic commitment to education for flourishing in the 21st century with conceptual precision and philosophical grounding."
​​
Flagship institutes
The University's four flagship institutes bring together our key strengths to tackle global issues, turning interdisciplinary and translational research into real-world solutions.