Philosophy at the Showroom: Belief, Authority and Freedom and "The Master"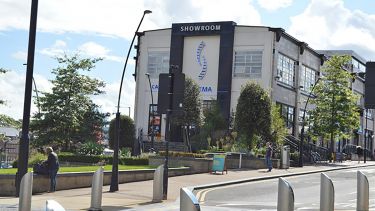 Philosophy at the Showroom is a series of sessions probing the philosophical questions raised by some of cinema's most intriguing films, and discussing books that have philosophical themes (either philosophical texts, or other works that raise philosophical questions).
For the May session of Philosophy at the Showroom, Department of Philosophy PhD student Neil Williams, will introduce a screening of Paul Thomas Anderson's 'The Master' (2012) and lead a discussion on belief, authority and freedom.
The Master
On its surface, The Master, is a realistic psychological examination of two seemingly opposed characters, and the intimate yet tense friendship which develops between them. Freddie Quell (Joaquin Phoenix) is a self-destructive, lustful, and volatile veteran of the second world war, who finds himself incapable of functioning within society. Lurching from one disaster to another, Quell encounters Lancaster Dodd (Phillip Seymour Hoffman), a self-professed psychologist, physicist, and theoretical philosopher, and the charismatic leader of a spiritual movement called "The Cause". The Cause claims to "free human beings from past trauma" through hypnotic techniques and past-life regression, and Dodd sees in Quell a "guinea pig and protégée" for his contentious ideas.
It is no coincidence that Dodd bears a striking resemblance to another self-appointed sage, L. Ron Hubbard, or that "The Cause" is methodologically and ideologically analogous to Scientology, the religion he founded. One reading of the film sees it as an examination of the way in which cultish self-help movements (represented by Dodd) sought to treat – or capitalise on – the trauma of post-war America (represented by Quell). Were this film simply a psychological examination of this period of American history it would be interesting enough. Phoenix and Hoffman give astonishing performances, their characters are interesting and nuanced, and the film is arrestingly shot. But The Master is also a philosophically rich and symbolically loaded film.
Neil will focus on two aspects of the film, revolving around two senses of what it is to be "a master": being a master of oneself, and being a master over others. In many senses, Quell and Dodd represent two opposed notions of human nature, or two contradictory approaches to finding happiness and freedom. Whereas Quell pursues freedom through the unconstrained pursuit of gratification, Dodd preaches a spiritual notion of self-control. And through the cult of authority which surrounds Dodd and "The Cause", the film asks us to consider the role that charismatic figures and community loyalty plays in our religious and political belief systems.
The standard Showroom admission charge applies.
More about the Spring programme of Philosophy at the Showroom.
Events at the University
Browse upcoming public lectures, exhibitions, family events, concerts, shows and festivals across the University.