MSc
PG Certificate
PG Diploma
2021 start
International Health Management and Leadership
School of Health and Related Research, Faculty of Medicine, Dentistry and Health

This programme provides a high-quality qualification in management and leadership for healthcare professionals.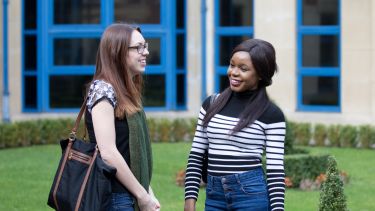 Course description
This is an online course for those who want to advance either within the sector where they are currently working or to step up the ladder into another sector in health.
The course focuses on the management challenges and practices that are unique to healthcare settings, making it ideal for those already working in healthcare management or those considering a career change into the sector.
You'll develop your understanding of quantitative and qualitative research methods used in health-related research, organisational theory, management and practices within health systems. You'll also explore healthcare management challenges, accounting and finance, operating environments, and how to be an effective leader of people.
In particular, the programme is suitable for health practitioners taking up management roles in hospital or health departments; managers of fast-growing health insurance and health maintenance organisations in low and middle-income countries; mid-level public health officers seeking career progression or moving into leadership roles in government, NGO and multilateral organisations such as UNICEF, WHO and USAID, especially in low and middle-income countries; and others from different disciplinary backgrounds switching career into health management and leadership.
Modules
Continuing Professional Development
All modules on this course can be studied as standalone CPD modules. It is possible to complete standalone modules  and then apply to transfer to an MSc/PGDip/PGCert qualification. Any time spent on the CPD route counts toward the time-limit a student has to complete their chosen qualification.
The course is taught completely online. This allows you to fit your studies around part or full-time employment. We recommend that you spend approximately 150 hours of study for each 15-credit module. This is equivalent to about 10-12 hours of study time per week.
Core modules:
Introduction to Research Methods Online

This module, which is delivered via online learning, provides students with an introduction to quantitative and qualitative research methods and to the types of skills necessary for the planning, data gathering and dissemination stages of health-related research.
Topics covered include:
•Research Design;
•Methods of Data Collection;
•Approaches to Analysing Data and Writing a Research Proposal.
The course provides a foundation for further learning in specific research methods. It is primarily designed for new students beginning Masters courses in the School of Health and Related Research (ScHARR) and there is an emphasis on research techniques used in public health and health services research (HSR).

15 credits

Managing People in Organisations (Online)

The course has been designed to particularly reinforce students on post-qualifying pathways by the means of broadening their knowledge in managing Human Resources in Healthcare organisations. This will be achieved by familiarising them with the scope of managerial skills, with the view to helping them bridge the gap between theoretical knowledge related and applied to HC organizational functions and behavioural traits. It touches issues of change and diversity management, employee motivation and even, patient empowerment; the course aims at preparing efficient managers to enhance sustainable competitive advantage through HR practices.

15 credits

Leading and Managing Health Services Online

This module integrates the principles of managing health care services and leading on rapid changes and advances in regional, national and international contexts. Principles of health management will be demonstrated through case-based teaching, in order to enable students to understand how to solve common management problems. Cases will be used to illustrate the complexity of the operating environment for health systems and health services. Students will be supported in developing critical thinking about the relative effectiveness of different approaches to management by analysing their own health care services within a broader cultural, political and policy context.

15 credits

Systematic Approaches to Evidence Assessment Online

This module , which is delivered online, provides the skills and knowledge required to conduct rapid assessments of the evidence base and then to apply these assessments to health management and/or clinical practice. It introduces and explains rapid review methodologies that seek to optimise the balance between rigour and relevance, ensuring the timely and judicious use of evidence that is both user sensitive and context dependent. This module will also address the growing demand for knowledge translation of research findings, specifically within the context of developing countries. A key feature is production of a culturally-sensitive action plan that takes into account local feasibility and implementation issues.

15 credits

Accounting and Financial Management (Online)

The unit aims to introduce the basic accounting and financial management concepts and principles so as to enhance the abilities of the participants to understand the nature of financial information, identify relevant economic events, determine the most appropriate financial measures for those events, and analyse the effects of those events on a firm's performance and financial position. The module also aims to help participants understand the appropriateness, the advantages / shortcomings of various accounting & financial management techniques and tools and use them accordingly to make value - creating for the organisation decisions.

15 credits

Strategic Management (Online)

Strategic management of organizations is a complex undertaking which starts with the central question: why are some firms more profitable than others? The course introduces students to the challenge of managing strategy in complex contemporary healthcare environments. The course will require students to examine this question by integrating knowledge from other units, while simultaneously learning and applying new strategic management concepts, principles, frameworks and methodologies. Topics include strategic management, environmental and internal analysis and diagnosis, strategy selection, and implementation and evaluation. Case studies will be used to give students practical examples.

15 credits

Foundations of Leadership & Teamwork (Online)

The course investigates the issues of becoming an effective leader and developing effective teamwork within health service providing organizations, critical for their success.The Foundations of Leadership and Teamwork course looks at individual, team, and organizational leadership. It lays the groundwork for examining and developing students' own personal leadership capabilities, whatever their responsibilities are within a hospital or other health/society oriented organizations.The course focuses on horizontal and vertical leadership, team building and performance and team leadership including the critical topic of ethics. It involves interactive and mixed-method format, building this way personal skills through team projects, class discussions, problem-solving, case studies as well as role-playing.

15 credits

Dissertation Online

The unit, which is supervised online, enables students to develop an understanding of the processes and the skills required to undertake a supervised research project in health care. Having successfully completed the unit, a student will be able to: demonstrate researcher skills commensurate with the achievement of a Master's degree; demonstrate independence of inquiry; produce a cogently argued piece of writing that demonstrates researcher competence and the ability to operate independently; address issues of research design, methodology, ethics and theoretical arguments, and locate their own research in relation to these issues.

60 credits
Optional modules:
Marketing of Health Care Organisations (Online)

The main aim of this unit is to introduce key concepts of marketing, their interrelationships and their role and application in health care contexts. The unit focuses on aligning health service offerings with the demands of markets in order to maximize customer/client value and organizational competitive advantage. Regulatory restrictions, financial pressures, and fierce competition are issues health care marketers must confront while marketing and promoting quality services and programs. Students will be explore in depth the nature of the marketing function; differences in services and product markets and marketing; market analysis; fundamentals of individual and organizational buying behaviour; elements of the tactical marketing mix (service offering design, price, promotion and customer acquisition channels); and marketing plans applied to the health care market.

15 credits

Using Policy to Strengthen Health Systems Online

This module, which is delivered online by distance learning, seeks to build on students' own experiences and knowledge of health policy and health systems. Over the course of the module, students will work individually and also in small online groups to develop a critical understanding of health policy and particular health systems, and to develop ideas and proposals about how these health systems can be strengthened, and who might benefit or not benefit. These improvements can be targeted at any combination of the regional, national, district, and community level. In this module, policy is understood in a broad way, as courses of action and inaction which shape health systems, and health systems are understood both as broad public health systems (including the social determinants of health), and as particular forms of organisation of health care (both formal and informal). The module is suitable for students with broad health and health care understanding, but also for those with more limited knowledge and experience of health systems.

15 credits
The content of our courses is reviewed annually to make sure it's up-to-date and relevant. Individual modules are occasionally updated or withdrawn. This is in response to discoveries through our world-leading research; funding changes; professional accreditation requirements; student or employer feedback; outcomes of reviews; and variations in staff or student numbers. In the event of any change we'll consult and inform students in good time and take reasonable steps to minimise disruption. We are no longer offering unrestricted module choice. If your course included unrestricted modules, your department will provide a list of modules from their own and other subject areas that you can choose from.
Teaching
The course is taught entirely online. We usually place 2-3 weeks of material online at a time, to allow you to complete tasks at your own pace.
Our teachers have experience of working in over 20 countries, managing health programmes and conducting research. Our work for organisations such as the UK National Institute for Health & Care Excellence (NICE), the UK Department of Health and the Medical Research Council influences national and international policy decisions.
We draw upon over 200 multidisciplinary staff with international reputations for health services research, health economics and public health research to develop ideas for your dissertation project that will make a difference to your industry and your career.
Assessment
Assessment is by coursework and project work.
Duration
MSc or PG Diploma: 2 years, part-time
PG Certificate: 1-2 years, part-time
Your career
After successfully completing your course, graduates have the opportunity to secure management and senior management roles. This can include management of hospital units and departments and private health facilities as well as healthcare management consulting.
Recent graduates work in many healthcare settings, with opportunities available in international hospital groups, health authorities and health insurance organisations.
You can apply for postgraduate study using our Postgraduate Online Application Form. It's a quick and easy process.
Any supervisors and research areas listed are indicative and may change before the start of the course.
Recognition of professional qualifications: from 1 January 2021, in order to have any UK professional qualifications recognised for work in an EU country across a number of regulated and other professions you need to apply to the host country for recognition. Read information from the UK government and the EU Regulated Professions Database.