Katie Biggs
MA (Hons) University of Edinburgh, MSc University of Liverpool
School of Health and Related Research
Assistant Director, CTRU/Research Fellow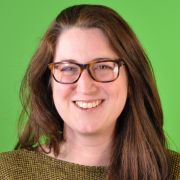 c.e.biggs@sheffield.ac.uk
+44 114 222 6128
Room: 2028, Regent Court (ScHARR)
Full contact details
Katie Biggs
School of Health and Related Research
Room: 2028
Regent Court (ScHARR)
30 Regent Street
Sheffield
S1 4DA

Profile

I am a co-applicant, and senior oversight, on the ASPECT trial, an RCT of Cognitive Behavioural Therapy (CBT) vs One Session Treatment (OST) for simple phobias and the I-SOCIALISE trial, an RCT of LEGO® therapy vs usual care for children with autism in schools. These projects are funded by the National Institute Health Research (NIHR).

I joined the Clinical Trials Research Unit in March 2010 having previously worked in various mental health services as a support worker. My previous roles included psychometric testing and data collection from service users and families. My psychology based degrees provided good grounding in research methods, data collection and analysis.

In CTRU I previously worked as a Study Co-ordinator on 3Mg (HTA – 06/01/02), Well-being and ADHD (Shire Pharmaceuticals), MERIDIAN (HTA – 09/06/01) and Development of an Adaptive designs CONSORT Extension (ACE), and as a Trial Manager on HubBLe (HTA – 10/57/46), PRACTICE (HTA –13/24/03) and I-SOCIALISE (PHR – 15/49/32).

I became Lead Trial Manager in 2015, providing support for study management staff and oversight of projects, including the resourcing of staff. In 2020, I became Assistant Director, responsible for CTRU management with the CTRU Director and other Assistant Directors, and am responsible for co-ordinating the CTRU input to pandemic research.

Current and recent projects

ASPECT (HTA – 15/38/04): Alleviating Specific Phobias Experienced by Children Trial.
I-SOCIALISE (PHR – 15/49/32): Investigating SOcial Competence and Isolation in children with Autism taking part in LEGO-based therapy clubs In School Environments
PRIEST (HTA – 11/46/07): Pandemic Respiratory Infection Emergency System Triage
CAT: Costing Adaptive Trials led by Newcastle University (qualitative lead)

Section

I am based in the Design, Trials & Statistics Section.
Publications
Teaching interests

I am involved in delivering various aspects of Master level programs at ScHARR including:

Supervising and marking dissertations on the Masters in Public Health, Masters in Health Services Research and Masters in Clinical Research
Deputy module leader on Randomised Controlled Trials in Health and Social Care module of the MSc in Clinical Research
Personal tutor to Masters Level students
Professional activities

I am the section deputy representative on the ScHARR Impact Strategy Group and I sit on the ScHARR Research Ethics Committee.