A place-based household voucher approach to increasing fruit and veg consumption.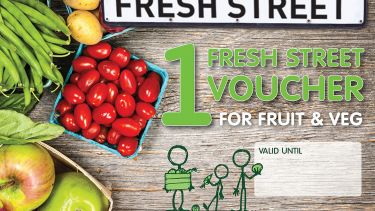 Off
Many communities in the UK are unable to afford, or access, the food needed to make up a healthy diet. What we eat (and how we eat) affects not just our health, but the local economy, social cohesion and the wider physical environment. Despite national healthy eating information campaigns (eg 5-a-day), and support for families on low incomes (Healthy Start), the UK diet fails to meet government recommendations. Just 20% of the UK population eat the recommended 5 daily portions of fresh fruit and vegetables.
Although the majority of UK population understand the importance of fresh fruit and veg for health, many lack the means to ensure that their diets include sufficient fresh fruit and veg. There are multiple causes as to why this is the case (poverty, lack of access, knowledge, food deserts, and heavy & pervasive 'cradle to grave' advertising for unhealthy food products).
There is evidence (from the Healthy Start programme) that vouchers for individual pregnant women and young children in receipt of income support are effective in increasing fruit and veg uptake (McFadden, 2014) but uptake of Healthy Start continues to decline.
This study developed and feasibility tested a place based cash transfer scheme. The FRESH St scheme offered local supplier specific vouchers for fresh fruit and veg to all households in geographically defined communities in areas of high deprivation. The study aimed to provide new information on a place based/ household level cash transfer based approach to improving diet and health and the wider environment.
---
FRESH Street Barnsley
We worked with local stakeholders in Athersley North in Barnsley, an area of high deprivation in the north of England during 2017-2018. We developed the "FRESH Street" scheme. The scheme offered every household weekly Rose vouchers for fresh fruit and vegetables (value £5) plus vegetable based recipes and nutritional information. These were delivered to each house every week in a distinctive bright green envelope. Vouchers were redeemable with local suppliers of fresh fruit and vegetables (not supermarkets). Vouchers could be shared with others.
Most (84%, 80/95) eligible households joined the scheme and 89% of the vouchers were redeemed. 43% of participating households had children under 18.
Many householders reported that the scheme made them think more about what they were eating, and prompted them to buy and eat more fruit and veg. The local fruit and veg shop and market stalls reported new customers and existing customers buying more.
People frequently talked (unasked) about their health (some reported that the scheme motivated them to lose weight). Householders also talked about shopping together, eating together, and sharing vouchers. When asked what they would do when the scheme stopped, some said they would reduce the amount of fruit and veg they bought, but many said they would continue to buy the same amount.
The full results have been submitted for publication in a peer-reviewed journal (Sept 2019).
This project was funded by the Medical Research Council in collaboration with Alexandra Rose Charity and Barnsley Metropolitan Borough Council and Barnsley North Area Council.
Additional thanks to Barnsley Public Health Team for all their support and also Alexandra Rose Charity for their efficient operation of the voucher reimbursement scheme.
Further information on the FRESH Street project
---
FRESH Street Sheffield
The project team are also working with Sheffield City Council and Regather Co-operative, Sheffield, to test the feasibility of this approach in an urban food desert. FRESH Street vouchers (total value £5) are being offered to 56 households in one block of flats in the Gleadless Valley area of Sheffield for one year.
FRESH St vouchers can be exchanged for fresh fruit and veg at Sheffield Market and/or a locally sourced/ grown fresh veg and fruit box from Regather.
Final results will be made available in Spring 2020.
Thank you to our funders the Medical Research Council, Sheffield City Council and Regather Co-operative. 
29th January 2019 - Preliminary results (PDF download, 853KB) on FRESH Street Sheffield were presented to Sheffield City Council Food and Obesity Board (ppt).
For more information please contact c.relton@qmul.ac.uk or m.strong@sheffield.ac.uk.
Flagship institutes
The University's four flagship institutes bring together our key strengths to tackle global issues, turning interdisciplinary and translational research into real-world solutions.