In memory of David J.A. Clines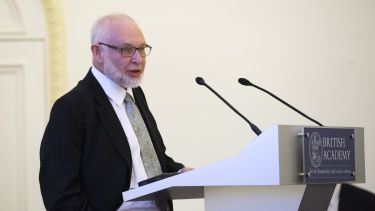 David J.A. Clines, a leading biblical scholar in the UK, was born in Sydney, Australia, in November 1938 and died in December 2022. He lived in England from 1961, but remained an Australian citizen. 
In 1964 he was appointed Assistant Lecturer in the Department of Biblical Studies here at the University of Sheffield, where he spent the whole of his academic career, apart from a temporary appointment in California in 1974–75, becoming in turn Lecturer, Senior Lecturer and Reader. In 1985 he was appointed Professor of Biblical Studies.
He also served as Head of Department from 1994 to 2001, during which time the Department gained the top grade in the Research Assessment Exercise, 2006 and the Subject Review Teaching Quality Assessment, 2002. He was also an active member of the Sheffield Centre for Interdisciplinary Biblical Studies (SCIBS), which has continued to showcase innovative approaches to the discipline at Sheffield.

His publications of books, edited volumes and articles is extensive, and his three-volume commentary on the book of Job is held in exceptional international regard, as are his methods of textual and post-modern criticism of biblical texts. Four volumes of  posthumous collected essays and further works are due for publication.

His project leadership and authorship of the Dictionary of Classical Hebrew, 1988 to 2022 (and ongoing) has brought out the only Classical Hebrew to English dictionary ever produced (nine volumes 1993–2016) and a major revision and update of this will be concluded during this decade and published posthumously.
In 1976 David, together with two colleagues in the Department of Biblical Studies (David M. Gunn and Philip R. Davies), founded the Journal for the Study of the Old Testament. This – along with the sister journal David helped found, the Journal for the Study of the New Testament – led to the establishment of Sheffield Academic Press, that published in this field and more broadly in Arts and Humanities, until 2000.
In 2004, together with two other colleagues, J. Cheryl Exum and Keith W. Whitelam, David founded Sheffield Phoenix Press, a press housed within the Department of Biblical Studies and dedicated to scholarly publishing of international research in the field. By the end of 2022 it had published well over 300 titles.
Read David's full academic obituaryA simple funeral took place at Hutcliffe Wood Crematorium, Sheffield, on Friday 6 January  2023. People may still take the opportunity to send condolences via this link.
---
Memorial Service 29 April 2023
A memorial service to celebrate David J.A. Clines's life and work will take place at St Mark's, Broomhill in Sheffield on Saturday 29 April at 2pm, with refreshments afterwards.
Memorial Symposium 28 to 29 April 2023
Prior to the memorial service there will be a David J.A. Clines memorial symposium at the University of Sheffield from the afternoon of Friday 28 April until the morning of Saturday 29 April. Please indicate your intention to attend the symposium on this form, precise location / arrival details will be sent to all who complete the form.
A global reputation
Sheffield is a research university with a global reputation for excellence. We're a member of the Russell Group: one of the 24 leading UK universities for research and teaching.