'Reimagining Paul' Exhibition
'Reimagining Paul' is an exhibition of two newly commissioned artworks created to spark conversation about the apostle Paul and the interpretation of his letters in contemporary society.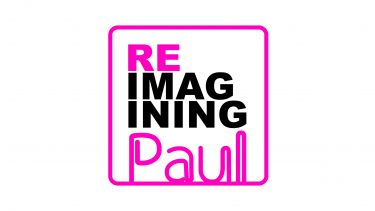 As the named author of a number of letters in the New Testament, Paul is a dominant figure within Christian tradition. How his letters are best understood has been the source of debate since their earliest reception. Trying to understand more about Paul himself is also no easy task. This exhibition seeks to help viewers visualise Paul in new ways, connecting to contemporary themes of identity and asking how we might interpret Paul and his letters today.
The exhibition, featuring an oil painting by Elizabeth Tooth and a neon text piece by Bettina Furnée, will first be on show at Rotherham Minster from 15th October–31st December. 'Reimagining Paul' will then be on show at Sheffield Cathedral from early January to mid February, with details on further showings to be announced here in due course.
---
Artists
'Reimagining Paul' features newly commissioned work from two artists: Bettina Furnée and Elizabeth Tooth. Below you'll find their biographies and links to their other work.
Bettina Furnée

Born in The Netherlands and based in Cambridge (UK), Bettina Furnée is a studio artist at Wysing Arts Centre. Her practice ranges from text and moving image to sculptural installation and public realm commissions. 

Using found text or interviews as material, her work features wordplay, language, sound, absurdity, the everyday, slippage and fear of no-return. She often works collaboratively with other artists, writers, musicians and researchers and engages participants in longer-term projects and public art schemes with themes of migration, identity and agency. 

She has been commissioned extensively, exhibited in solo and group shows, and awarded residencies and grants in support of self-initiated projects. Most recently she was selected for Syllabus VI (2020/21) and in 2019 toured collaborative and participatory choral performance work Even You Song. 

Bettina Furnée read art history and trained as a letter cutter before graduating with a Masters in Public Art from Chelsea College of Arts. 

See more of Bettina's work here.

Elizabeth Tooth

Described as one of 'the most exciting fine art portrait painters in England today' and a 'modern-day renaissance master', Elizabeth Tooth's paintings feature in many public and private collections all over the world; including the UK, France, Iceland, Germany, North America and South Africa.

'It is the creation of likeness which fascinates me; a glint of gold in the shadows, the flicker of an eyelid, the shimmering pulsation of nerves under skin... likeness is always at the centre of my work.

Humans relate to images of other humans, particularly faces, on a visceral, subconscious level; this is why portraiture is especially powerful and relevant. After layers of meaning and concept are stripped away, that relationship remains.

Using the historically-loaded medium of oils I set out to create jewel-like treasures, like altar pieces or icons intended for personal devotion.'

See more of Elizabeth's work here.
Artworks 
St Paul of the Thorns

                                                                           St. Paul of the Thorns
                                                                           Oil painting on linen
                                                                           Elizabeth Tooth
                                                                           2022

St Paul of the Thorns depicts the artist's husband, who has a disabling pain condition. Here he is imagined as Paul, surrounded by a web of thorns that both restrain him but also elevate him. The painting draws inspiration from 2 Corinthians 12:7–10 and Paul's famous 'thorn in the flesh', which has puzzled interpreters for centuries as they have tried to work out what Paul's 'thorn' might be. Tooth's painting invites reflection on the body, particularly as a body-in-pain, and allows viewers to consider again Paul's 'thorn': namely, what sort of relationship does Paul have with the 'thorn' as described in 2 Corinthians?

2 Corinthians 12:7b–10 (New Revised Standard Version Updated Edition)

Therefore, to keep me from being too elated, a thorn was given me in the flesh, a messenger of Satan to torment me, to keep me from being too elated. Three times I appealed to the Lord about this, that it would leave me, but he said to me, 'My grace is sufficient for you, for power is made perfect in weakness.' So I will boast all the more gladly of my weaknesses, so that the power of Christ may dwell in me. Therefore I am content with weaknesses, insults, hardships, persecutions, and calamities for the sake of Christ, for whenever I am weak, then I am strong.

 like this.) I am more.

                                                                           like this.) I am more.
                                                                           Neon glass on steel frame
                                                                           Bettina Furnée
                                                                           2022

like this.) I am more. is a neon piece that displays alternating flashing text over two lines: 'like this' and 'I am more'. These words are an extract from the New International Version translation of 2 Corinthians 11:23, which in its entirety reads: 'Are they servants of Christ? (I am out of my mind to talk like this.) I am more. I have worked much harder, been in prison more frequently, been flogged more severely, and been exposed to death again and again'. In this verse and the wider passage, Paul boasts ('as a fool', 11:17) of various hardships he has suffered in the course of his ministry. By isolating words from 11:23 and presenting them in flashing neon format, the words can be read as an ambiguous identity statement prompting two questions: 'like what?' and 'more what?'

 2 Corinthians 11:21b–30 (New International Version)

Whatever anyone else dares to boast about—I am speaking as a fool—I also dare to boast about. Are they Hebrews? So am I. Are they Israelites? So am I. Are they Abraham's descendants? So am I. Are they servants of Christ? (I am out of my mind to talk like this.) I am more. I have worked much harder, been in prison more frequently, been flogged more severely, and been exposed to death again and again. Five times I received from the Jews the forty lashes minus one. Three times I was beaten with rods, once I was pelted with stones, three times I was shipwrecked, I spent a night and a day in the open sea, I have been constantly on the move. I have been in danger from rivers, in danger from bandits, in danger from my fellow Jews, in danger from Gentiles; in danger in the city, in danger in the country, in danger at sea; and in danger from false believers. I have labored and toiled and have often gone without sleep; I have known hunger and thirst and have often gone without food; I have been cold and naked. Besides everything else, I face daily the pressure of my concern for all the churches. Who is weak, and I do not feel weak? Who is led into sin, and I do not inwardly burn?

If I must boast, I will boast of the things that show my weakness.
Visited the exhibition?
Events at the University
Browse upcoming public lectures, exhibitions, family events, concerts, shows and festivals across the University.