Professor Evgeny Dobrenko
School of Languages and Cultures
Honorary Senior Research Fellow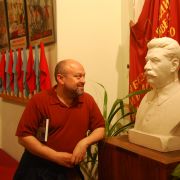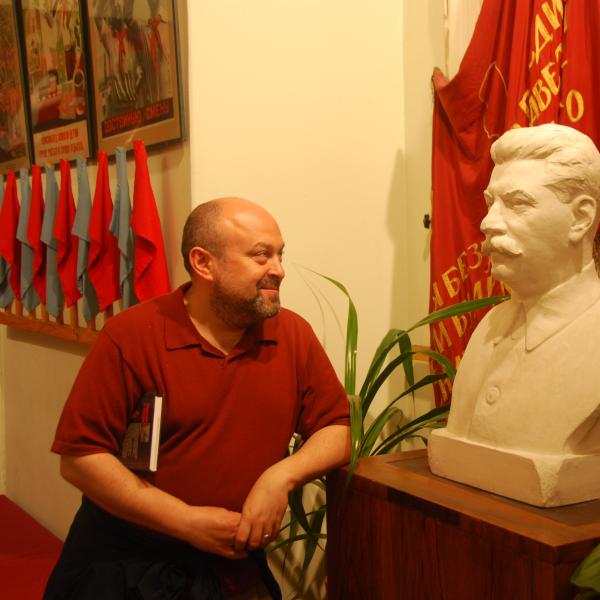 e.dobrenko@sheffield.ac.uk
Jessop West
Full contact details
Professor Evgeny Dobrenko
School of Languages and Cultures
Jessop West
1 Upper Hanover Street
Sheffield
S3 7RA

Profile

Before I joined the Department of Russian and Slavonic Studies at the University of Sheffield in January 2007 I worked in the Soviet Union (Odessa State University, Moscow State University, the Russian State University for the Humanities, Moscow), in the USA (Duke University, Stanford University, Amherst College, University of California), and in the UK at the University of Nottingham.

I held a Stanford Humanities Centre Fellowship, a Karl Loewenstein Fellowship in Political Science at Amherst College, and a Kennan Institute of the Woodrow Wilson International Centre Fellowship. I was a Fellow at the New York University International Centre for Advanced Studies and at the Centre for Research in the Arts, Social Sciences and Humanities at the University of Cambridge.

I have also been a recipient of the Guggenheim Fellowship, the Leverhulme Major Research Fellowship, an AHRC Grant, EURIAS Senior Fellowship at the Institut für die Wissenschaften vom Menschen in Vienna, the Fernand Braudel Fellowship at the European University Institute in Florence and the Senior Research Fellowship at the University of Hokkaido.

I have taught academic seminars and delivered public lectures in Germany, Austria, France, Italy, Holland, Belgium, Switzerland, Bulgaria, Lithuania, Russia, China, Japan, Korea, the UK, and across the United States. In 2012 I was awarded the Efim Etkind Prize for the best book about Russian Culture and in 2019 I received AATSEEL Award for Outstanding Contributions to Scholarship.
Research interests

My research interests lie in Soviet and post-Soviet literature and culture, Stalinism, Socialist Realism, Soviet national literatures, Russian and Soviet film, critical theory and Soviet cultural history.

I am the author, editor and co-editor of twenty books, and more than 250 articles and essays which have been translated into ten languages.
Books

Books

Late Stalinism: The Aesthetics of Politics

       

Compared to the vast literature on the Russian Revolution, the 1920s, industrialization, collectivization, the terror of the 1930s, and the "Thaw" of the Khrushchev era, very little has been written specifically about the epoch of late Stalinism. While the dominant picture of the cultural and social history of the period is one of torpor and immobility, Dobrenko argues argues that World War II drastically altered the status of the Soviet state, replacing the cult of Revolution with the cult of Victory, instigating rapidly shifting and contradictory agendas that found their expression in music, art, literature, film, and other cultural outlets. In this nuanced historical analysis organized chronologically around the main events of the period—beginning with Victory in May 1945 and concluding with the death of Stalin in March 1953—Dobrenko analyzes key cultural texts to trace the emergence of an imperial Soviet consciousness, which he argues still very much defines the political and cultural profile of modern Russia.

New Haven, Yale University Press, 2020
Moscow, Novoe literaturnoe obozrenie, 2020 (in two vols.)

"It's Just Letters on Paper…" Vladimir Sorokin: After Literature

This volume is devoted to the leading contemporary Russian writer Vladimir Sorokin (b. 1955). The articles included in the collection are focused both on general principles of his poetics and individual works: texts written in the late Soviet underground, his post-Soviet bestsellers, plays, screenplays and films.

Sorokin is seen here not only as a writer, but also as a media figure who created his own personal myth. The book consists of the most important works written about Sorokin for several decades, throughout his literary career, as well as new articles and Sorokin's selected interviews.

Ed. with Ilya Kalinin and Mark Lipovetsky Moscow: Novoe literaturnoe obozrenie, 2018 (in Russian)

Socialist Realism in Central and Eastern European Literatures under Stalin: Institutions, Dynamics, Discourses

This is the first published work to offer a variety of alternative perspectives on the literary and cultural Sovietization of Central and Eastern Europe after World War II and emphasize the dialogic relationship between the 'centre' and the 'satellites' instead of the traditional top-down approach. The introduction of the Soviet cultural model was not quite the smooth endeavour that it was made to look in retrospect; rather, it was always a work in progress, often born out of a give-and-take with the local authorities, intellectuals and interest groups.

Relying on archival resources, the authors examine one of the most controversial attempts at a cultural unification in Europe by providing an overview with a focus on specific case-studies, an analysis of distinct particularities with attention to the patterns of negotiation and adaptation that were being developed in the process.

Ed. with Natalia Jonsson-Skradol, London: Anthem Press, 2018

Russian literature since 1991

Russian Literature since 1991 is the first comprehensive, single-volume compendium of modern scholarship on post-Soviet Russian literature. The volume encompasses broad, complex, and diverse sources of literary material – from ideological and historical novels to experimental prose and poetry, from nonfiction to drama. Written by an international team of leading experts on contemporary Russian literature and culture, it presents a broad panorama of genres in post-Soviet literature such as Postmodernism, Magical Historicism, Hyper-naturalism (in drama), and the New Lyricism. At the same time, it offers close readings of the most prominent works published in Russia since the end of the Soviet regime and elimination of censorship. The collection highlights the interdisciplinary context of 21st-century Russian literature and can be widely used both for research and for teaching by specialists in and beyond Russian Studies, including those in post-Cold War and post-communist world history, literary theory, comparative literature, and cultural studies.

Ed. with Mark Lipovetsky, Cambridge: Cambridge University Press, 2015

A History of Russian Literary Theory and Criticism: The Soviet Age and Beyond

 

This volume assembles the work of leading international scholars in a comprehensive history of Russian literary theory and criticism from 1917 to the post-Soviet age. By examining the dynamics of literary criticism and theory in three arenas—political, intellectual, and institutional—the authors capture the progression and structure of Russian literary criticism and its changing function and discourse. For the first time anywhere, this collection analyzes all of the important theorists and major critical movements during a tumultuous ideological period in Russian history, including developments in émigré literary theory and criticism.

Ed. with Galin Tihanov, Pittsburgh: Pittsburgh University Press, 2011
Moscow, Novoe literaturnoe obozrenie, 2011

The Cambridge Companion to Twentieth-Century Russian Literature

In Russian history, the twentieth century was an era of unprecedented, radical transformations - changes in social systems, political regimes, and economic structures. A number of distinctive literary schools emerged, each with their own voice, specific artistic character, and ideological background. As a single-volume compendium, the Companion provides a new perspective on Russian literary and cultural development, as it unifies both émigré literature and literature written in Russia. This volume concentrates on broad, complex, and diverse sources - from symbolism and revolutionary avant-garde writings to Stalinist, post-Stalinist, and post-Soviet prose, poetry, drama, and émigré literature, with forays into film, theatre, and literary policies, institutions and theories. The contributors present recent scholarship on historical and cultural contexts of twentieth-century literary development, and situate the most influential individual authors within these contexts, including Boris Pasternak, Alexander Solzhenitsyn, Joseph Brodsky, Osip Mandelstam, Mikhail Bulgakov and Anna Akhmatova.

Ed. with Marina Balina, Cambridge: Cambridge University Press, 2011

Noncanonical Classic: Dmitry Aleksandrovich Prigov

This book is the first attempt of an interdisciplinary approach to the works of the poet, prose writer, artist, actor and theorist of art Dmitry Aleksandrovich Prigov (1940-2007). Its intrigue is designated in its title: in terms of his importance and influence on the modern Russian literature and visual arts Prigov was, undoubtedly, classic – however his works defy any kind of cultural "canonization" and require for their interpretation new approaches which the contributors of this volume – philologists and philosophers, historians of media and theorists of visual culture, writers and poets, musicians and artists – have aimed to develop. The volume, which includes works of forty authors from five countries, also presents several very important interviews and intellectual conversations with Prigov as well as major essays on his works and the Moscow conceptualism of 1970s through 2000s in general.

Ed. with Ilya Kukulin, Mark Lipovetsky and Maria Mayofis,
Moscow: Novoe literaturnoe obozrenie, 2010

Petrified Utopia: Happiness Soviet Style

 

The pursuit of collective happiness was a utopian ideal that structured many aspects
of Soviet culture—a fact recognized by numerous scholars in various disciplines ranging from cultural and literary studies to sociology and political science. However, this collection represents the first series of independent studies that fully investigate this significant marker that shaped Soviet culture and expands our understanding of Russia´s past and present ideals.

This volume introduces the Western reader to the most representative ideas of happiness, and the ways in which its pursuit shaped Soviet everyday life and cultural practices from the early post-revolutionary years to post-Soviet period. The essays reveal different manifestations of happiness in literature and visual culture that pervaded the entire gamut of both—from children's literature to the official and high-literary canon, from architecture to fine arts and film, from popular magazines to cookbooks, and from the culture of consumerism to the "paradise of goods" depicted in Soviet posters. Featuring articles by leading specialists in the study of Soviet culture from the UK, the USA, Germany, Italy, and Russia, Petrified Utopia addresses the present lack of scholarship on this important phenomenon.

Ed. with Marina Balina, London & New York: Anthem Press, 2009

Stalinist Cinema and the Production of History: Museum of the Revolution

This book explores how Soviet film worked with time, the past and memory. It looks at Stalinist cinema and its role in the production of history, the conversion of the present and experience into history, mechanisms of transfer and what is located between history and the past. The representation of history is always the representation of power. The institution of legitimisation and the mechanism for the production of identity, history is the past, constructed and served by the authorities who are attempting to curtail the experience by packaging it into a literary narrative and new visual imagery. Cinema´s role in the legitimisation of Stalinism and the production of a new Soviet identity was enormous. Both Lenin and Stalin saw in this `most important of arts´ the most effective form of propaganda and `organisation of the masses´. By examining the works of the greatest Soviet filmmakers of the Stalin era – Sergei Eisenstein, Vsevolod Pudovkin, Grigorii Kozintsev, Leonid Trauberg, Fridrikh Ermler, Mark Donskoi, Mikhail Romm – the author explores the role of the cinema in the formation of the Soviet political imagination.

Edinburgh, Edinburgh University Press & New Haven, Yale University Press, 2008
Moscow, Novoe literaturnoe obozrenie, 2008

Political Economy of Socialist Realism

If we removed Socialist Realism - novels about enthusiasm in industry, poems about the joy of labour, films about the happy life, songs and pictures portraying bountiful Soviet lands, and so on - from our mental image of "Soviet socialism," we would only see dreary workdays, routine daily labour, and a hard, unsettled life. Without Socialist Realism, nothing that could properly be called socialism would remain.

For decades, Stalinist literature, film, art was almost exclusively deemed political propaganda imposed from on high, devoid of any aesthetic significance. This book suggests a new view - socialism did not produce Socialist Realism to "prettify reality," rather Socialist Realism itself produced socialism by elevating it to reality status, giving it material form. Seen thus, "Soviet socialism" was merely a system for legitimizing the existing political and ideological regime by representing it as socialism. Without art, socialism could not have materialized. Socialist Realism was a method for producing socialism, a machine for transforming Soviet reality into socialism. Socialist Realism is thus primarily aesthetic-transformative, not propagandistic. Socialism's mystical political economy, stripped of a basis in human nature, cannot be understood without aesthetics.

This book treats Socialist Realism not as narrative, but rather as discourse that uses narrative to produce a peculiar sublimated reality impossible without derealization of life: as socialism realizes itself, life is proportionally derealized.

Before the Revolution, socialism was chiefly an economic project, and in revolutionary culture a political one. In Stalinism it became a purely representational-aesthetic project. This book regards Socialist Realism as Stalinism's most significant socio-political institution - a factory producing "real socialism." Bringing together the Soviet historical experience and the art that "reflected it in its revolutionary development" - Stalin-era novels, films, poems, songs, painting, photography, architecture, and advertising - author examines Stalinism's representational strategies and demonstrates how "real socialism" was begotten of Socialist Realism.

New Haven, Yale University Press, 2007
Moscow, Novoe literaturnoe obozrenie, 2007

Soviet Culture and Power A History in Documents, 1917-1953

 

Leaders of the Soviet Union, Stalin chief among them, well understood the power of art, and their response was to attempt to control and direct it in every way possible.

This book from the Annals of Communism series examines Soviet cultural politics from the Revolution to Stalin´s death in 1953. Drawing on a wealth of newly released documents from the archives of the former Soviet Union, the book provides remarkable insight on relations between Gorky, Pasternak, Babel, Meyerhold, Shostakovich, Eisenstein, and many other intellectuals, and the Soviet leadership. Stalin's role in directing these relations, and his literary judgments and personal biases, will astonish many.

The documents presented in this volume reflect the progression of Party control in the arts. They include decisions of the Politburo, Stalin's correspondence with individual intellectuals, his responses to particular plays, novels, and movie scripts, petitions to leaders from intellectuals, and secret police reports on intellectuals under surveillance. Introductions, explanatory materials, and a biographical index accompany the documents.

Ed., with Katerina Clark, Andrei Artizov and Oleg Naumov, New Haven, Yale University Press, 2007.

Aesthetics of Alienation: Reassessment of Early Soviet Cultural Theories

 

This book takes issue with the idea that Socialist Realism was mainly the creation of party leaders and was imposed from above on the literati who lived and worked under the Soviet regime. It shows instead that the aesthetic theories underpinning Socialist Realism arose among the writers themselves, born of their proponents' desire for power in the realm of literary policymaking.

Accordingly, at the centre of the book is the evolution of these theories, deciphering the power relations and social conditions that helped to shape them. In chapters on Proletkult, RAPP, LEF, and Pereval, author reexamines the theories generated by these major Marxist literary groupings of the early Soviet Union and shows how each approached the problems of literature's response to the presumed social mandate of the young communist society, and how Socialist Realism emerged as a conglomerate of these earlier, revolutionary theories. With extensive and detailed reference to supporting testimony and documents, the author demonstrates how Socialist Realism was created from within the revolutionary culture, and how this culture and its disciples fully participated in this creative process.

Evanston, Illinois: Northwestern University Press, 2005

Russian Literary Criticism: 1917-1932

 

This tome of 20-volume "Library of Russian Literary Criticism" represents works of most prominent and influential literary critics and theoreticians of the Revolutionary Era -- Alexander Bogdanov, Vladimir Friche, Anatoly Lunacharsky, Leo Trotsky, Leopold Averbakh, Valerian Pereverzev, Alexander Voronsky, Boris Arvatov, Viktor Shklovsky, Sergei Tretiakov, Boris Eikhenbaum, Yuri Tynianov and others. The articles focus on a wide spectrum of issues -- from the nature and functions of art under socialism to the problems of literary form. The book gives a broad picture of the literary struggle of the 1920s and represents the most important literary groups - from Proletkult and LEF to RAPP and Pereval.

Ed., Introduction and Commentary, Moscow, AST, 2003 (in Russian)

The Landscape of Stalinism: The Art and Ideology of Soviet Space

 

This wide-ranging cultural history explores the expression of Bolshevik Party ideology through the lens of landscape, or, more broadly, space. Portrayed in visual images and worlds, tyhe landscape played a vital role in expressing and promoting ideology in the former Soviet Union during the Stalin years, especially in the 1930s. At the time, the iconoclasm of the immediate postrevolutionary years had given way to nation building and a conscious attempt to create a new Soviet "culture". In painting, architecture, literature, cinema, and song, images of landscape were enlisted to help mold the masses into joyful, hardworking citizens of a state with a radiant, utopian future - all under the fatherly guidance of Joseph Stalin.

From backgrounds in history, art history, literary studies, and philosophy, the contributors show how Soviet space was sanctified, coded and "sold" as an ideological product. They explore the ways in which producers of various art forms used space to express what Katerina Clark calls "a cartography of power" - an organisation of the entire country into "a hierarchy of spheres of relative sacredness", with Moscow at the center. The theme of center versus periphery figures prominently in many of the essays, and the periphery is shown often to be paradoxically central.

Examing representations of space in objects as diverse as postage stamps, a hikers' magazine, advertisements, and the Soviet musical, the authors show how cultural producers attempted to naturalize ideological space, to make it an unquestioned part of the worldview. Whether focusing on the new or the centuries-old, whether exploring a built cityscape, a film documentary, or the painting Stalin and Voroshilov in the Kremlin, the authors offer a consistently fascinating journey through the landscape of the Soviet ideological imagination.

Ed., with Eric Naiman, Seattle and London, University of Washington Press, 2003

Soviet Riches: Essays on Culture, Literature and Film

 

This volume of critical essays by Slavists in England, the USA, Germany, Russia and Canada includes pieces on totalitarian museum, mass theatre in Soviet Russia, Soviet calendars and media, poetry (Blok, Mayakovsky) prose (Platonov, Zoshchenko, Chukovsky), memoirs and films (Eisenstein, Aleksandrov, Romm).

Ed., with Marina Balina and Jury Murashov, Sankt-Peterburg, 2002 (in Russian)

The Making of the State Writer: Social and Aesthetic Origins of Soviet Literary Culture

This book completes the author's study of the sociology of the literary process in Soviet Russia, begun in The Making of the State Reader: Social and Aesthetic Contexts of the Reception of Soviet Literature (Stanford, 1997). The history of the literary process of the Soviet era, understood as the living process of the clash of political and ideological aspirations and the interests and psychology of cultural elites, allows one to understand the social origins and cultural aims of Stalinist art in an entirely new way.

Previous scholarship has concentrated largely on Sovietological answers to the basic problems of Stalinist aesthetics such as "political control", "repressions", and "pressure from the regime". However, the author demonstrates that Socialist Realism is not so much directed as it is self-directed; it is not a matter of control but of self-control. The transformation of the author into his own censor is the true history of Soviet literature.

Socialist Realism is cultural revolution not only from above but from below as well. The state simply took into account, and accurately discerned, the demands of the masses, and Soviet literature became the reader's answer to these demands. The reader not only shaped Socialist Realist aesthetics down to his own expectations, but in fact created it. The Soviet writer was yesterday's Soviet reader who had learned how to write books.

The Soviet writer can be called the product of authority only to the extent that this authority recognized and institutionalized what Lenin called the "lively creativity of the masses." On the other hand, the author shows, the Soviet writer is the radical realization and embodiment of the nineteenth-century Russian populist utopia of enlightenment of the people.

Stanford, Stanford University Press, 2001

Socialist Realist Canon

This collection of 70 articles is one of the major studies on the subject. Among the authors are the most prominent experts on Stalinist culture: literary, film, and art critics, musicologists, historians, philosophers from USA, Germany, Russia, UK, France, Switzerland and Israel. The book focuses on such issues as the origins and poetics of Socialist Realism; its links with modernism, postmodernism, utopianism, infantilism, religion, folklore, and kitsch; its aesthetic categories, genres, major motifs, and discursive practices. This book was acclaimed by `Nezavisimaia gazeta' as `Book of the Year' in philology for 2000.

Ed. with Hans Gunther, Sankt-Peterburg, 2000 (in Russian)

Endquote: Sots-Art Literature and Soviet Grand Style

"Sots-art", the mock use of the Soviet ideological cliches of mass culture, originated in Soviet nonconformist art of the early 1970s. This text examines literary Sots-art on several levels. The book is divided into three parts, the first conceptual, the second on Sots-art poetry, and the third on Sots-art prose. "Endquote" provides informative guidance in understanding contemporary Russian culture.

Ed., with Marina Balina and Nancy Condee, Evanston, Northwestern University Press, 1999

The Making of the State Reader: Social and Aesthetic Contexts of the Reception of Soviet Literature

The Making of the State Reader: Social and Aesthetic Contexts of the Reception of Soviet LiteratureIn Soviet culture, the reader was never a "consumer of books" in the Western sense. According to the aesthetic doctrine at the heart of the Socialist Realism, the reader was a subject of education, to be reforged and molded. Because of this, Soviet culture cannot be examined properly without taking into account the reading masses. This book is a history of the shaping of the reader of Soviet literature, a history of the "State approproation of the reader."

The entire history of the formation and transformation of the institution of literature in the revolutionary and Soviet eras bears witness to the fact that literature was called upon to perform a substantive political and ideological function in the authorities' overall system (which included the publishing business, the book trade, libraries, and school), aimed at ultimately creating a new Soviet person. This book shows how people from various social classes, in a dynamic unknown in pre-Soviet history, not only consumed the products of a new culture but in fact created that culture.

On its own, the sociology of reading is scarcely capable of uncovering the variety, dynamism, and multilayed structure of the process of reading, for the reader is a composite figure. Soviet society in the Stalin era was not only a State-hierarchy system, but a mosaic that was always divided into definite cultural strata, each of which consumed its own culture, which performed a host of familiar functions--escapist, socializing, compensating, informative, recreational, prestige-enchancing, aesthetic, and emotional--in addition to the specifically Soviet tastes connected with propaganda and mobilization.

If we superimpose on this spectrum the diverse characteristics of individual readers, the resulting picture is extraordinarily variegated. At the same time, there is a certain cultural space in which these factors intersect--the space the author defines as the "situation of reading." In this book, he focuses on the basic lines of force that were at work in the Soviet reading space.

Stanford, Stanford University Press, 1997

Socialist Realism without Shores

Socialist Realism Without Shores offers an international perspective on the aesthetics of socialist realism--an aesthetic that, contrary to expectations, survived the death of its original domain. This expanded edition of a special issue of the South Atlantic Quarterly brings together scholars from various parts of the globe to discuss socialist realism as it appears across genres in art, architecture, film, and literature and across geographics divides--from the "center," Russia, to various points at he "periphery"--China, Germany, France, Poland, remote republics of the former USSR, and the United States.

The contributors here argue that socialist realism has never been a monolithic art form. Essays demonstrate, among other things, that its literature could accommondate psychoanalytic critics in that its art and architecture could affect the aesthetic dicates of Moscow that made "Soviet" art paradoxically heterogeneous; and that its aesthetics could accommadate both high art and crafted kitsch. Socialist Realism Without Shores addresses the critical discourse provoked by scoialist realism--Stalinist aesthetics; "anthropological" readings; ideology critique and censorship; and the sublimely ironic approaches adapted from sots art in the Soviet version of postmodernism.

Ed., with Thomas Lahusen, Durham and London, Duke University Press, 1997

Metaphor of Power: Literature of the Stalin Era in Historical Context

At the centre of this monograph is the genesis and development of Stalinist literature. This is a study of some key aspects of Soviet literature from the early 1920s to the middle of the 1950s, such as the dynamics of revolutionary culture from Avant-Garde to Socialist Realism, the aesthetics of 'Party literature', the cult of the leader, the image of the enemy in the 1930s, Soviet literature of the War, the literary and ideological Campaigns of the era of late Stalinism.

Munich, 1993 (in Russian)

Isaac Babel's Red Cavalry

At the centre of this book is Isaac Babel's Red Cavalry and the way in which it reflects the Russian Revolution. The book focuses on the poetics of the novella cycle, the interaction between Russian and Jewish cultures in the twentieth century, and the forming of a new Jewish national identity after the Revolution.

Co-authored with Galina Belaia and Ivan Esaulov, Moscow, 1993 (in Russian)

Ridding Ourselves of Mirages. Socialist Realism Today

This volume brings together leading Soviet literary critics, historians, philosophers, and journalists in what turned out to be the last discussion about Socialist Realism to be held in the Soviet era itself. This book conveys the polemics at the peak of perestroika: essays, materials of `round-tables', letters of readers to newspapers. Among the authors are Andrei Siniavskii, Galina Belaia, Arsenii Gulyga, Igor Zolotusskii, Vadim Kovskii and others.

Ed., Moscow, 1990 (in Russian)