Training for PhD students
As a PhD student at the University of Sheffield, you will have access to training delivered by either the SMI, academic departments, the White Rose Doctoral Training Partnership or the Faculty of Social Science.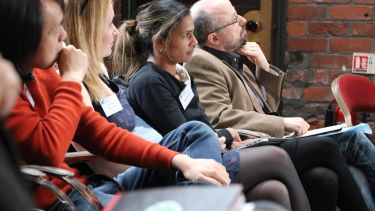 Our training
Training is offered in the following key areas:
Discipline-based training - Provides a high-level understanding of academic debates in a specific field
Professional skills for research leadership - Training in how academic work is funded, published and translated into practical use beyond the university
Ethics training - Encourages students to be sensitive to issues of research integrity and ethics, starting from research design, through to publication and beyond
Research methods training - Covers the foundations you will need to be a social scientist and provides exposure to cutting-edge methods that support students' own projects and their future research ambitions
Interdisciplinary Pathway training - Enables students to articulate how their PhDs contribute to wider societal challenges
Career Development and Transferable Skills Training - Equips you with transferable skills needed in a range of careers
Applying for a PhD
You can apply for your PhD online through the online portal. We strongly advise you to contact your chosen department first to discuss your research proposal with potential supervisors. This way we can offer advice and guidance on applying for your PhD including details on the types of documents you may need, or how to present your application.
After discussing your research proposal, apply online.
Social Sciences Doctoral Training Programme and the DDP
The Social Sciences Doctoral Training Programme comprises initial training modules provided by Sheffield Methods Institute which are normally completed within your first year of study. In addition, there are four portfolio-based Advanced Training Modules which aim to support you in your PhD study and in the transition from doctoral study to employment.
These are:
Doctoral Training in Discipline
Doctoral Training in Pathway
Advanced Research Methods
Professional Skills in Research Leadership
Further information on the advanced training module content and assessments is found in your Doctoral Training Programme handbook, and on the MOLE sites for each module.
These modules require doctoral students to access a variety of seminars, workshops, and conferences which may be provided by departments, the University and the White Rose DTP. This University Doctoral Development Portal links to information on content and booking options for the range of training (workshops, seminars etc) available which could contribute to these modules. You are advised to discuss the relevance of the sessions with your supervisor.
Students who do not wish to complete the full modules and assessments should still agree training needs with their supervisor, and all social sciences doctoral students are able to access the full range of doctoral development sessions available. Students may also attend workshops, events etc relevant to their PhD which may not directly contribute to the training modules.
Find a PhD
Search for PhD opportunities at Sheffield and be part of our world-leading research.